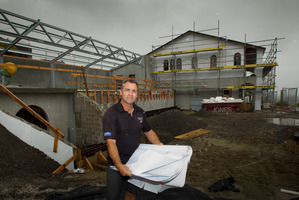 Falling wages have resulted in Hawke's Bay having the worst trend in New Zealand for house affordability, according to the Massey University Home Affordability Report.
Report author Professor Bob Hargreaves said a Statistics New Zealand survey showed that the average Hawke's Bay wage had fallen from $1010 a week 12 months ago to $985.
The report's affordability index - which calculates house price, interest rates and wages - shows an increase of 10.9 per cent for Hawke's Bay. The next-nearest declines were Manawatu/Wanganui at 2.7 per cent and 2.2 per cent for Auckland.
He said that compared with major centres Hawke's Bay was "still pretty good" for home buyers.
Auckland house affordability recorded 135 per cent as a percentage of the average wage, while Hawke's Bay was 81.3 per cent.
QV's Residential Price Index for August shows that Hastings houses were up 4.3 per cent on last year and Napier's up 2.8 per cent.
The Roost Home Loan affordability report, which shows the percentage of a 30-34-year-old's after-tax pay - the "core" period for home-buyers - needed to service an 80 per cent mortgage on a median-priced house, had worsened in Napier, from 47.5 per cent in July this year to 51.2 per cent in August, compared with 45 per cent a year ago.
According to the latest REINZ figures, the median house price in Napier is $318,000.
Napier's average weekly pay cheque after tax for people aged 30-34 is $721.87, up from $707.55 in August last year.
Home-loan affordability in Hastings also worsened from 40.4 per cent in July this year to 46.9 per cent in August, compared with 43.9 per cent a year ago.
The median house price in Hastings is $290,000.
Hasting's average weekly pay cheque after tax for people aged 30-34 is $718.78, up from $704.52 in August last year.
The results come ahead of Reserve Bank lending restrictions on high risk mortgages taking effect last week.
Hawke's Bay mortgage broker Stuart Dowie said concerns about home affordability in Hawke's Bay would have been overtaken by the bank's changes. "A lot of people who didn't think they'd qualify for a loan anyway have definitely been trying to."
Most of his time had been spent trying to get these people over the line before the restrictions came into force, Mr Dowie said.
But it wasn't time to panic because many non-bank lenders were still lending at 90 per cent and at low interest rates, he said.
"I've found their lending criteria to be more approachable than many of the banks."
Nationally, housing affordability worsened from 55.4 per cent in July to 56 per cent in August, after national house prices rose $5000 to $390,000.
The median weekly pay packet for the 30-34 age bracket is $808.54 - up from $794.80 a year ago.
The cheapest place to buy was Wanganui, with 27.7 per cent affordability.
Hawke's Bay's low wage rates were its main affordability factor, Professor Hargreaves said.
"In the Bay you would have a lot of people working in orchards - those wage rates would not be fantastic. You need a Bill Gates or somebody to come into the district with Hi Tech wages."
- additional reporting APNZ