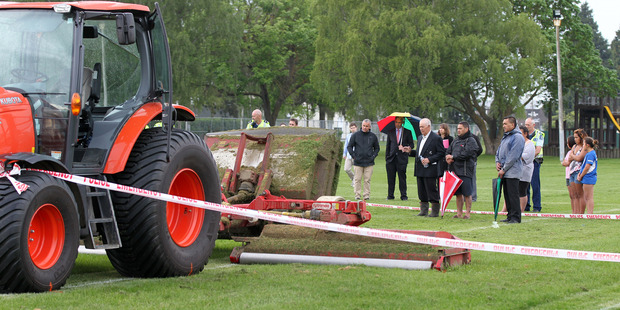 The grandfather of a Hastings preschooler killed in a tragic mower accident says he is devastated by the death.
Four-year-old Uetaha Wanoa, the son of Willy Ransfield and Ailza Wanoa, died after being hit by a lawnmower towed by a council tractor at Kirkpatrick Park in Hastings on Tuesday.
The boy was thought to have been with his older cousins when the accident happened.
A Facebook post by Uetaha's grandfather, Duncan Ransfield, said he was "devastated''.
"To my son William David Ransfield my daughter in law Ailza Wanoa all our aroha kia korua 4our tragic loss.''
Uetaha's uncle, Dallas Halbert, expressed his condolences on Facebook, saying everyone should embrace their children and "love them to the moon and back''.
"Parents we need to understand that we are letting children look after children and sometimes expect the child to fullfill their duty to an adults expectations lets try not too and learn from this sad incident with my nefew. RIP neefew Uetaha.''
Hastings' Mayor Lawrence Yule said he would meet Ms Wanoa this afternoon.
The family wanted to be left alone, but would release a statement and a photo of Uetaha later today, he said.
Mr Yule yesterday said the tractor driver and his wife were "very distraught'' over the boy's death.
"He has been a tractor driver with the council for 13 years and is one of our senior drivers. He and the rest of the council staff are just devastated.''
Police, the council and the Ministry of Business, Innovation and Employment's labour department have all launched investigations into the death, which is also expected to be the subject of a coroner's inquest.
Sergeant Ray Kirkby said the mover was doing a forward run when the boy came towards it on an angle and was hit.
The driver stopped immediately but there was nothing he could do and the boy died at the scene.
Mr Kirby said his family were "devastated'', as was the driver.
"It's been very tragic for everyone who was involved, especially for the family. Our condolences go out to them.''
The boy's family were rallying around one another to cope with their grief, and Victim Support had also been engaged.
Mr Kirkby would not comment on whether anyone was likely to face charges over the death.
The boy's funeral was expected to be held on Friday.
Mr Yule said the council had decided to begin its own investigation into the tragedy, which will be conducted by a person independent of the council. He said police and the council were fully cooperating in the inquiries.
"We will launch our own investigation, principally to look at any procedures that may need to be improved on, so we can prevent anything like this happening again.
"Often police and government investigations can take some time, so we will carry out our own investigation to determine if we can to anything in the interim.''
Mr Yule said he had "no real picture'' of how the boy came so close to the tractor-mower or the events leading up to the accident.
- APNZ