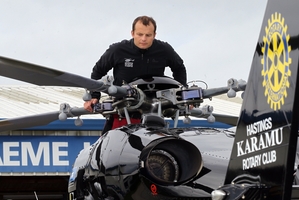 The Lowe Corporation Rescue Helicopter is back after six months out of operation when it was damaged during a mission at Wellington Hospital in April.
The BK117 twin-engine chopper had its rotor blade damaged by a gust of wind at a critical time during the start sequence which forced the blade into the helicopter tail section, while preparing for takeoff in the capital.
Since April the rescue helicopter crew have used two backup helicopters, an alternative BK117 for daytime missions and a Squirrel helicopter for night-time missions. Modifications to the fins on the tail rotor will ensure if a similar incident occurs the helicopter would still be operational.
Rescue Helicopter chief pilot Charlie Beetham said he was extremely happy to have the dedicated BK117 rescue helicopter back at the hangar.
"It is going to make life a lot easier with only having one helicopter to operate from, versus having to change gear between the two backup helicopters depending on the time of day.
"The rescue helicopter crew have done a great job making sure the operation has kept on running seamlessly with the two backup helicopters, but it is great to have our dedicated rescue helicopter back," he said.
Each year the rescue helicopter service assists with more than 300 missions within Hawke's Bay. The trust is supported by contributions and fundraising from individuals and organisations in the region.