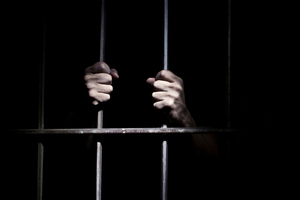 A man was sent to prison yesterday after admitting an assault on his eight-months' pregnant partner when she refused to give him money, pleading with him that the money was instead needed for the baby.
Matthew Walker Hawkins, 25, appeared in Hastings District Court yesterday after he previously pleaded guilty to a charge of injuring with intent.
His lawyer, Eric Forster, told the court the family had been short on money due to Hawkins purchasing synthetic cannabis products. He said the fact that the drug was legal had sent "mixed messages" to Hawkins.
"It sends a message that it is okay to be intoxicated by cannabis-like substances."
A police summary of facts said Hawkins was at home with his partner on the night of July 10 when an argument broke out over finances.
"The defendant became irate when the victim refused to give him money."
The victim was thrown to the ground by Hawkins, who then stood over her and demanded she hand over some money.
"What followed was a prolonged attack in which the defendant followed the victim around the house for half an hour, assaulting her."
She was thrown to the ground three times, pinned against a cupboard, had her head smashed into a wall, was held around the throat four times, punched once in the head and kicked in the thigh. Hawkins snatched her phone from her when she went to call the police and the attack ended only after she pretended to be knocked out.
Judge Tony Adeane said the circumstances of the assault were "sadly familiar".
The offending was "disgraceful" and "unacceptable" and said a term of imprisonment was inevitable.
Judge Adeane said it was not a first offence and noted Hawkins' previous convictions for assault on a female, breaching a protection order and failing to attend programmes.
Initially he sentenced Hawkins to 12 months' imprisonment but, after accepting further submissions regarding the nature of the defendant's employment, he reduced it to two months' imprisonment.
The sentence allows for Hawkins to partake in the shearing season.
Judge Adeane refused to consider an electronically monitored sentence or a term of home detention, which he said would be "inappropriate".
"You start kicking eight-months' pregnant women and you won't get any sympathy here."
Mr Forster told the court the victim wanted her partner to stop spending money on synthetic cannabis so he would be less volatile and the family would have more money.