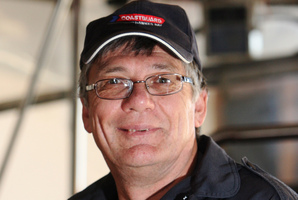 The first rescue mission of the season by the Hawke's Bay Coastguard on Sunday was a timely reminder for people taking to the sea in boats to make sure everything was shipshape, president Henry van Tuel said.
Which in the case of those aboard the 7m power boat which broke down about 200m off Westshore it was - except for the engine.
Mr van Tuel said the three older men and a younger man aboard all had approved lifejackets and they had good communications systems aboard which enabled them to call for assistance immediately.
"It is important to have that equipment and that communication, and in terms of the mechanical problem we would encourage boat owners to have the engines looked at if they have not been to sea for a while."
He said the main fault was battery failure.
"Get that checked because batteries are critical ... you can't push start a boat."
Mr van Tuel said coastguard carried out routine boat checks for owners but mechanical checks needed to be carried out by marine engine specialists.
"There are several around here people can go to."
The coastguard were quickly on the scene of Sunday's call-out after getting the call about 3pm as a crew was preparing to begin a training exercise.
"So they were ready to go."
Conditions were relatively calm and and the boat and crew were in no danger, Mr van Tuel said. "Pretty straight forward."
After a line was attached to the boat it was towed back to the inner harbour where the owner had launched it from.
Mr van Tuel said assisting boats with mechanical problems was top of the volunteer rescue service's list.
Since the specialist rescue response boat Celia Knowles was launched four years ago it had logged nearly 100 call-outs for towing assistance.
Coastguard responded to 32 calls last season (to the end of June) to help vessels which had broken down.
It also responded to 20 police 111 calls and assisted a total of 62 people.