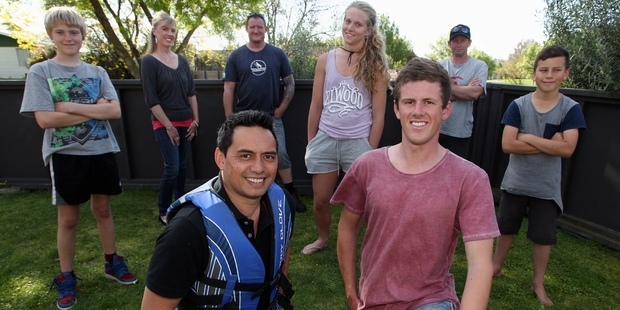 The final swimmer to be plucked from a wild rip at Waimarama Beach on Sunday thought he was going to die as rescuers struggled to save him.
"We were just in a big washing machine," Anton Randell said.
"I'm feeling lucky, lucky to be here," he told Hawke's Bay Today from his Havelock North home yesterday.
Anton, wife Kirsty, 10-year-old son Josh and his friend Jamie Nichols, 12, are "shell shocked" after a day at the beach went horribly wrong.
The boys had gone in for a dip near Waimarama Surf Lifesaving Club about 3pm when they were quickly swept sideways in extremely rough, foggy conditions.
Mr and Mrs Randell were watching from the shore and rushed to their aid, but fell victim to the churning seas, struggling to stay afloat as waves washed over them.
"I went out on a boogie board. I couldn't see my son - thought he was gone.
"Then I found his friend ... I went out again for Josh, but my wife had spotted him further down the beach and had jumped in to get him.
"I thought I was a goner, I was exhausted, I was trying to float, I was trying to keep on going, I was yelling for help."
Quick thinking bystander Wade Kelly was preparing for a surf when he heard screams and crying from people gathered on the beach and dove in with his board.
He made it a priority to rescue the young boys first and delivered Jamie and Josh to safety before heading out for the husband and wife, who were losing energy, just trying to stay afloat.
Meanwhile, 18-year-old off duty Ocean Beach lifeguard Poppi Tucker-Low had swum out to help.
"When I got there I could see them clinging on, they were starting to unbalance the board, and I thought, 'I need to do something before all three end up in the water'; if the surfer had fallen off they would all be in trouble," she said. "I grabbed the guy and I was holding him under the armpits, he was facing away from me I was trying to hold him up but he had no energy and I was low key drowning, myself."
Having risked her life in the first place, Poppi realised she needed to get back to shore, before she was unable to muster the strength.
"He was getting really frantic and started to drown me a little bit. The first thing I had been taught as a lifesaver was to think of yourself first; we got rolled under by a wave and I thought 'I have to go'."
Leaving Mr Randell alone was an extremely difficult decision, but as she struggled to swim back through the rip, Poppi started to fear for her own life. As the drama continued, Todd Magee and David Foster were struggling to get close enough to Mr Randell on their jet skis.
"I have surfed for 30 years and it was really rough out there.
"I went along on the outside of the breakers and saw [Poppi] holding him up. It was really choppy and I rolled the jet ski. I had to swim about 60 metres myself," Mr Foster said.
"Todd chucked him a life-jacket because the girl had to let him go when he started to struggle.
"There was so much white water, by the time I got back on the jet ski, he had gone another 50 metres."
Eventually Mr Foster was able to get close enough for Mr Randell to grab his leg and pull him to calmer waters.
"He was pretty weak, he was talking, just, all he could do was hang on. If Todd hadn't chucked him that jacket it could have been a different ending."
Mr Randell spent a night in hospital, while the others were given the all clear to go home.
"I had been in the water the longest and my temperature was very low. I had also taken on a lot of water so they wanted to make sure I didn't get an infection in my lungs," Mr Randell said.
There were many things they could have done differently, he said. "I am just so grateful to all those who risked their own lives to save us, they were not lifeguards, they were just regular people."