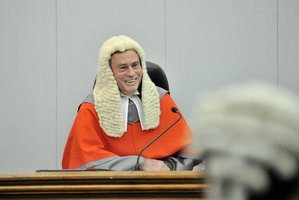 Hawke's Bay Fish and Game has won its case to have critical information on the Tukituki Catchment Proposal released from the project's promoters, Hawke's Bay Regional Council and its investment company.
Fish and Game filed an application to the Board of Inquiry reviewing the catchment proposal, asking for it to order the regional council to release information it needed to help write a submission on the project.
The board's decision, signed by chairman Lester Chisholm, ordered the regional council to meet Fish and Game's environmental officer, scientist Corina Jordan today.
The board noted particularly, Fish and Game wanted the "TRIM" model used by Dr James Rutherford of NIWA. The model predicted the nitrogen and phosphorus levels in streams, the risk of nitrate toxicity and the effects of nutrients on periphyton growth if the land was able to be used more intensively because of the extra water from the Ruataniwha Dam.
"In essence, the Fish and Game experts wish to test the reliability of the model used by Dr Rutherford which is also relied on by other experts supporting the HBRC and (investment company) cases," the board said.
The board ordered Dr Rutherford to explain the model to experts for Fish and Game and the Hawke's Bay Environmental Water Group. Any other experts had until 5pm tomorrow to signal their wish to view a demonstration.
The board noted the regional council was not prepared to release the TRIM data because it contended the model was "neither reasonably required nor of any piratical use" to Fish and Game.
NIWA was also reluctant because it was worried about the intellectual property rights of the model's data which had been developed over many years.
The board ordered each expert viewing a demonstration or explanation of the model must first sign an undertaking the information would not be used for commercial use.
"If experts wish to carry out further testing of the TRIM model, that testing must take place on Dr Rutherford's premises, subject to the (confidentiality) undertaking."
Access to the proposed dam site near Makaroro had also been an issue because the land owner, Craig Preston, was not prepared to let people on site during the lambing and calving season until after Thursday.
The board hoped an inspection would be possible on Friday.