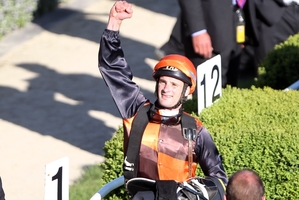 Never mind how insurmountable the odds, jockeys have a choice on how they intend to tackle any given race.
Minutes before the premier race, the $250,000 Turks Spring Classic in Hastings on Saturday, a jockey sitting outside the entrance to the weigh-in area flipped through the pages of the glossy race booklet while sporadically taking drags on a cigarette. Not Johnathon Parkes, though.
Having a kinder No 2 draw, Parkes was psyched up to saddle Ransomed, albeit a horse no pundits had publicly given a chance of winning the 2040m race with the likes of Nashville and Survived in the field of 14.
It didn't matter, though, because the 24-year-old jockey from Waverley had done his homework the night before.
"I went through all of his wins from last season last night [Friday], after videotaping and watching them with a friend," he said, after the six-year-old bay gelding pipped Nashville by a nose in a three-horse sprint to clinch the classic, the last leg of the Rush Munro's Hawke's Bay Spring Racing Carnival trilogy.
"I thought he's a good horse and had just as much chance of winning as the rest of them," Parkes said after the pair stopped the clock at 2min 04.21sec, leaving Cent Home's race and course record of 2:02.16 intact.
It was the jockey and trainer Gary Vile's first career group 1 victory.
"It's a great feeling and it's still probably kicking in but I'm over the moon about it," Parkes said, in a career covering almost nine years of riding with 1052 runs that have yielded 124 wins, 121 runners up and 119 thirds.
"I was about 15 or 16 when I first got into a saddle," he said, beaming from ear to ear.
"I haven't had too many group 1 races but I know now when you win one it's a great feeling," Parkes said of his "sort of goose-bumpy" sensation.
It was early days but Parkes felt a group 1 victory would boost his resume and perhaps more trainers would have him in their equation for the elite races.
Ransomed, he said, was a decent stayer who finished well.
"He's really tough. Nashville's come up to go straight past him but he's just lunged at it."
He didn't find the prospect of beating pre-race favourites Nashville and Survived, third by half a neck, daunting.
"Coming into the 800 he [Ransomed] started giving and giving a bit more and urging a bit more.
"The way he straightened up with Nashville coming, he just lunged to the line," Parkes said, delighted with a fantastic Bay weather that suited Ransomed to the hilt.
Perhaps the other notable difference between the three placegetters was Ransomed wearing blinkers.
While he felt it was Vile's decision to take Ransomed across the Tasman, it'll be another step up for Parkes who hasn't raced overseas.
Going to bed at 8pm was on his agenda on Saturday, said a grinning Parkes, ruling out a celebratory drink or two.
"It could be a white lie, though," he said with a wink as he headed for the jockeys' changing room.
Vile, of Palmerston North, described his maiden acquisition as "unbelievable".
"I haven't had many starters in group 1 racing but I'm very happy to have won this one," said Vile who has had about 10 attempts in a training career spanning about 28 years.
The horse was unlucky in the Windsor Park Plate, slipping over twice.
"We knew we still had a good horse so we carried on."
Vile reflected on the Auckland Cup where jockey Michael Walker had butchered Ransomed's chances of victory.
"He rode a bad race and I told him that," he said. "He's a good friend of mine and he took it well."
Vile, who co-owns Ransomed with Jean Walsh and the estate of the late Frank Walsh, simply told Parkes to ride Ransomed like he rode him to Manawatu Cup victory earlier this year.
The Walshes also bred the horse.
With older sister Kelly Myers suspended a fortnight ago for careless riding, Rosie Myers found herself saddling Nashville.
"It's very, very frustrating but that's racing," Myers said after the agonisingly close call.
"Obviously you're out there to win. Second is the first loser so ... ," said the Palmerston North jockey who has notched four group 1 victories in her career.
A jockey could dwell on several what-if factors post-race, Myers said, but at the end of a race it always came down to the result.
"Obviously I wanted to win but I'm very happy for Johnathon because he's a really nice guy and I'm also happy for Gary Vile."