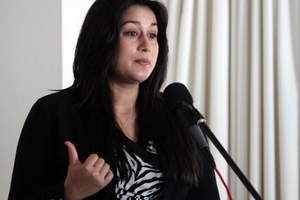 A pregnant candidate for the Hawke's Bay District Health Board (DHB) drew gasps as she explained why she works in public service instead of law.
Jacoby Poulain, a sitting Hastings district councillor, said her humanitarian work experience in Indonesia was life-changing.
While stuck in a taxi in a traffic jam one day, an old lady carrying a baby came to the window, begging for money. The driver gave money and explained the baby did not belong to the woman.
"He said she gets the child from a baby trader who acquires the child from parents, who in desperation sell their children for a couple of dollars.
"When that child becomes too big to carry, the beggar takes the child back to the baby trader and exchanges it for a smaller one.
"I didn't know such things existed - I have lived a very lovely and sheltered life.
"That sort of thing cemented in me a resolve to come back and use my life as meaningfully as I can to contribute back to society, using the skills and abilities I have to make other people's lives more meaningful."
Ms Poulain was one of just six DHB candidates, of the 12 running for election, who accepted the invitation to speak at the Grey Power Hastings and Districts' Meet the Candidates meeting yesterday.
It is the only public forum for the election.
"They all made excuses and they all made apologies," Grey Power president Marie Dunningham said of the six absent candidates.
The six present were Lynlee Aitcheson, Kevin Atkinson, Beverley Fullerton-Smith, Helen Francis, Graeme Norton and Jacoby Poulain.
The candidates were asked their opinions from the audience of 44 on parking problems at Hawke's Bay Hospital, transportation to hospital for rural non-drivers, fluoridation, the role of CEOs and whether the DHB could help people with difficulties claiming ACC.
Ms Poulain told Hawke's Bay Today she wasn't sure how people would react to her impending parenthood in February while holding two public service roles.
"A lot of people aren't aware I'm not a practising lawyer, so I'll have two part-time things - council and DHB - to make one full-time role," she said.