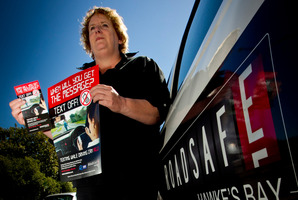 Road Safe Hawke's Bay has joined forces with its counterpart in the Manawatu region, setting up a heavy traffic checkpoint, as its first of many joint initiatives likely to roll out into the busy summer holiday period.
Road Safe Hawke's Bay regional manager Linda Anderson and Horizons Road Safety co-ordinator Debbie Webster have created a work plan to develop and implement road safety programmes across the two regions.
"We share a highway network, their drivers travel on our roads and vice-versa. Road Safe Hawke's Bay has also developed similar joint initiatives with neighbours Taupo and Gisborne.
"It just made sense as we could compliment each others activities and ensure the consistency of messages."
Road Safe Hawke's Bay works under the Hawke's Bay Regional Council while Horizons Road Safety works under the Horizons Regional Council, which largely covers the Manawatu region.
The organisations worked with Road Transport Association NZ's Sandy Walker and police sergeant Chris Quinn to set up a heavy vehicle checkpoint at Matamau, just north of Dannevirke recently.
Mrs Anderson said the focus was on health and safety and the checkpoint included a nurse working to provide "mini health checks" for drivers.
"Chris and his team were checking log books and the road safety co-ordinators provided refreshments and road safety information for the drivers.
"The event was well received by the drivers ... Further activities will be planned over the next few months."
In a separate project, Road Safe Hawke's Bay and Hawke's Bay Police are developing a DVD called Stopping Distance.