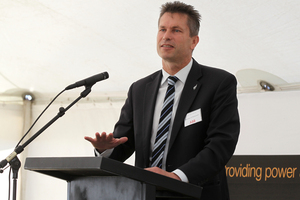 Chris Tremain, the MP for Napier and Minister for Internal Affairs and Local Government, has decided not to contest the 2014 elections.
Mr Tremain, who made the announcement from Wellington this afternoon, said his family had been a "huge part" of his decision. He said he had made the decision with his my wife and communicated it to the Prime Minister a fortnight ago.
"I have decided to announce it today to allow the National Party time to find a suitable replacement for next year's election."
"I have three children finishing high school and I want to devote more time to them before they leave home," Mr Tremain said.
"I am proud of the significant achievements of this government led by Prime Minister John Key. Under his leadership New Zealand is now one of the strongest growing economies in the western world and has a very bright future. I intend to continue to contribute to this exciting future but now in the commercial sector of our economy."
Mr Tremain is the son of the late All Black legend Kel Tremain and the brother of Napier real estate agent owner Simon Tremain.
Chris Tremain said it was his "intention to devote my energy to both my electorate and to my Ministerial portfolios right through until the general election next year. I have had amazing support from the people of Napier and Hawke's Bay and wish to finish a number of local projects before the end of the term."
"I will prioritise the second tranche of local government reform, gambling reform, fire legislation and the ICT Strategy and Action Plan in my Ministerial portfolios between now and the election.
"The National Party continues to enjoy unprecedented support as a second term government, which means we are well placed to win a third term next year. In the last election, I had a 6600 party vote majority and a 3700 electorate vote majority, which I believe provides a solid platform for a strong National Party candidate to win Napier once again in 2014," Mr Tremain said.
Mr Tremain ousted former Labour MP Russell Fairbrother from the Napier seat in 2005 with a 3581 majority. It was the first time in 51 years that Labour lost its Hawke's Bay stronghold. In the 2008 election, he increased his majority to 9018.The move opens the way for former Labour Party MP Stuart Nash, who has indicated he will contest the Napier seat next year.