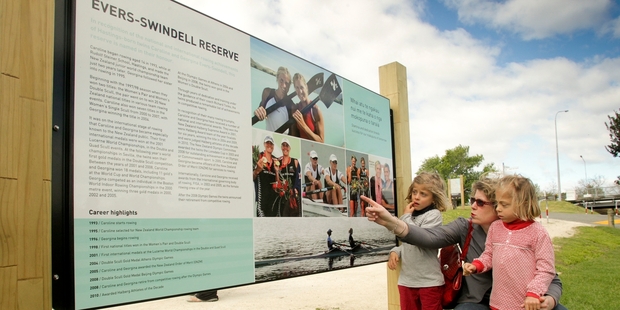 The efforts of Hawke's Bay's double Olympic gold medallists, sisters Caroline Meyer and Georgina Earl, have been marked on a site close to where the Hastings twins began their rowing career as teenagers.
The Clive Ski Reserve was renamed to honour the two Olympians at a special ceremony yesterday, and the park sits on the banks of the Clive River across from the Hawke's Bay Rowing Club where the sisters spent their teenage years training.
It will now be known as the Evers-Swindell (the sisters' maiden name) Reserve, to recognise the rowing accomplishments of the two champions, who won gold in the women's double sculls at the Athens Olympics in 2004 and repeated the feat at the Beijing Olympics in 2008 before retiring from the sport later that year.
The sisters could not make the ceremony in Clive but their sister Pippa Caccioppoli and her twin daughters attended the occasion on the twins' behalf.
"This is a very fitting tribute and recognition for all of the hours they spend training here. Georgina and Caroline are sorry they can't be here today but said they are looking forward to bringing their own families here to see the reserve."
The twins have two of their own children each and are living with their families in the South Island. A video tribute played showing the twins' career highlights and a message from Caroline.
"It is a huge honour for us and Hastings will always be home to us. We can't wait to see it when we come back up. It was very nice that the [Hastings district] council thought of doing this for us, it is a real treat."
A comprehensive display board at the reserve features information on the twins' sporting achievements and also historic information on Clive. The reserve had also been upgraded with new play and picnic equipment for people to enjoy.
Hastings Mayor Lawrence Yule and the Kahurangi Maori Dance Theatre presented the new reserve to about 100 people who had gathered for the ceremony. A ceremonial row past by a waka ama and boats from the Hawke's Bay Rowing Club was also organised, and the boat Caroline and Georgina rowed to gold at the Athens Olympics was on display.
In addition to Olympic success, Georgina and Caroline also won gold at the Rowing World Championships in 2002 (Seville), 2003 (Milan) and 2005 (Gifu).