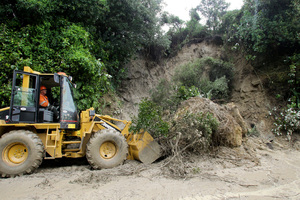 Motorists using SH2 south of Napier and SH50 are advised there are likely to be minor delays at various places as slip clearing work is carried out.
The highways were both in the path of strong winds and steady rain which hammered the region during the middle of the week.
On SH2 between Napier and Dannevirke slip clearing work as well as drainage repair work is under way on the stretch between Pakipaki and Takapau while there are various slip sites between Waiohiki and Takapau.
Speed restrictions and stop-go signalling are in place.
On the northern stretch of SH2 through to Gisborne there are four construction sites for new passing opportunities. The first is located at the northern end of the Tangoio Valley near the Tangoio Falls Scenic Reserve carpark, the second is at the top of the Devil's Elbow near the Aropaoanui Rd intersection, the third is located 4km north of Tutira and the fourth at Waihua Hill, 17km south of Wairoa.
There are also various road maintenance sites between Putorino and Gisborne and slight delays can be expected at all sites.
On SH5 between Napier and Taupo subsoil drain and pavement repairs are being carried out on the north side of the Titiokura Saddle, 7km north of Te Pohue. Motorists can expect minor delays.
Slip clearing is also being carried out at various sites between Frasertown and Waikaremoana on SH38. Bridge repairs at the Makapua Stream 22km west of Frasertown are also being carried out and a temporary bailey bridge is in use. Motorists are advised to drive with care as the approaches are unsealed.