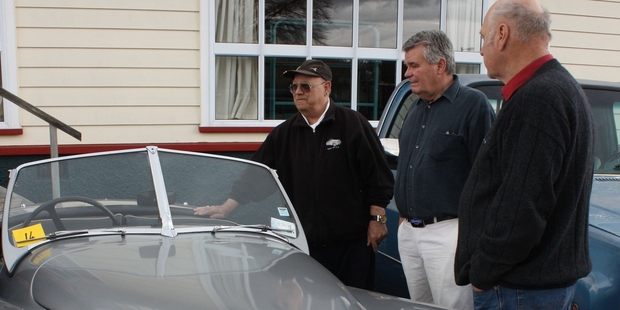 Many admired it, everyone wanted it, but most didn't have the money to buy Andrew Sterling's 1952 XK120 Jaguar on display at Dannevirke Services and Citizens Club on Saturday.
The show, organised by the Dannevirke branch of the National Street Rod Association, attracted more than 80 cars which were the envy of visitors.
For most owners no amount of money would buy their dream wheels and Mr Sterling admits he's turned down $130,000 for his 3.4 Jaguar.
"I just laughed. They were dreaming," he said.
"I think it would be one of the most valuable cars here and she's a lovely girl.
"Drop her into top gear and she just skips along. It's a joy to drive, but a bugger to park. I like to feel the road through the steering wheel and when I get her up to 55mph (88km/h) she purrs. But I've got to keep my eye on the speedo, it creeps up."
Dannevirke's Wayne McDonagh was one of many who admired the Jaguar.
"I think it's beautiful," he said.
And while Mr Sterling has turned down $130,000 for his car, he realised sending it back to England to sell would bring in the big money.
"There aren't many super sports models around and an old guy had owned it before me for 40 years," he said. "I heard about it by word of mouth and when I first saw the car it was in absolute mint condition. I had to haggle over the price. It was well over $100,000."