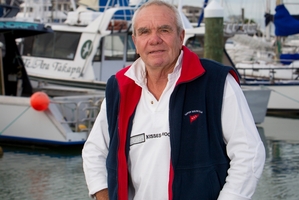 How hard can it be to win one lousy America's Cup yacht race in San Francisco?
That appears to be the multi-million-dollar question and, contrary to popular belief among countless New Zealanders, it sure isn't a breeze in bringing back home the Auld Mug.
It's fair to say the red-socks brigade from Napier Sailing Club in Ahuriri have played the patriotic game religiously but what's transpired on the shifty and fluky waters of San Francisco Bay recently has left nagging doubts in their minds.
Says club rear commodore Paul Redman: "If I was a betting man I would put money on America winning this but from a patriotic point of view I'm strongly New Zealand, of course, but this time the tables have turned and we have a big job ahead of us to bring this cup home now."
Club committee member Brook Faulknor has gone through the motions but this morning he intends to give the telly a miss.
Faulknor and his sailing family have watched every race from the Louis Vuitton series through to the cup.
"It's been good but I've missed a few mornings at work and, dare I say it, the kids have been late for school a couple of mornings, especially last week when we thought it'd be all sewn up," says the 39-year-old builder and club committee member whose wife also loves sailing.
So what will it take for the Kiwis to prevail?
Red socks, rabbit's foot, four-leaf clover, rubbing pork fat on the hulls of the cool cat or simply divine intervention.
No, it can't possibly come down to superstition, can it?
Explains Faulknor: "Yachties are very superstitious people, anyway, so there'll be as many good luck charms in action as possible. Team New Zealand will be doing all of that."
The Kiwis made a good start before a gear failure slowed them down which saw the holders pull one back.
"Since then they have copied all our good ideas such as roll tacking, foil jibing and a few good ideas," Faulknor says, adding design modifications within the rules have given Oracle Team USA enough oomph to bridge that gap.
Oracle tactician Sir Ben Ainslie has won four Olympic medals so, he reckons, the yachtie doesn't miss a beat.
"If you're behind him, he doesn't leave the gate open. He just shuts you down."
Effectively, Faulknor believes the Kiwis need a lot of luck.
"We've had a lot of bad luck," he says, pointing out the too windy scenario in Sunday's race. "We just need the rub of the green."
Faulknor says with match racing, especially America's Cup, the fastest boat always wins, no matter what.
"We need a little bit of luck and we'll beat them," he says, reflecting on last Thursday's races as a classic example when Team NZ got a good start to win.
"The boats are so even that if you get the jump and you're clever enough to stay there then they can't beat you because there are no passing lanes as such."
Nevertheless, he is quick to point out Oracle have turned the tables on Team NZ.
"It's getting tough but they need a bit of luck. How hard can it be to win a race?"
Gamesmanship on the water, at least, is out of the question simply because while they are competitors they are also professional seaman who will adhere to etiquette.
Potentially trying to yield a time penalty may be that luck factor but, failing that, it'll have to come down to beating the Yanks fair and square.
Redman says it's vital to stress Team NZ skipper Dean Barker and his crew have consistently reiterated it was never going to be a breeze although the Kiwi public seem to have been under that impression.
"We'll still wake up every morning and put our red socks on again, keep our fingers crossed and get more and more nervous," says the 64-year-old semi-retired driver, adding everyone is beginning to realise they have a battle on their hands.
Earlier in the cup challenge, he says, it was abundantly obvious to everyone Team NZ had more boat speed.
"At the end of the day, no matter who gets the start or what happens, if you have more boat speed it's hard to better.
"What's happened in the last half of the series is that Oracle, for sure, arguably have more boat speed than us and that's a hard one to battle."
Alluding to news reports, Redman points out the American syndicate have employed Kiwi boat builders to make alterations to find better traction on the water.
"It's hard to get everything perfect every time, especially when the boat is being sailed in a different mode of lighter winds because it's harder to keep the boat up on the foils."
It's no different for Oracle, either. Because the catamarans are going so fast the slightest of errors can cost a team a sizeable distance.
"It's pretty agonising because in the earlier races we're saying, 'Shit, we're looking good, we can do this'," Redman says.
"Now, you see it and the boat speed looks equal but I think Oracle's going a bit faster so now we're thinking, 'Geez, we need a big bit of luck here for us to take this out because the race count is a lot closer now'."
Redman says local knowledge isn't an issue because Oracle have only one home-grown sailor in their catamaran "so there's arguably as many strangers on their boat as ours".
Conversely the New Zealand boat has a team of 100 in the US to get them up to speed in just about every facet of racing.
Like Faulknor, he emphasises the importance of luck.
"You can say a bit of luck has gone against us. In other words, when we did get a couple of good starts it was too bloody windy.
"The race we did pull off - an excellent tactical one - we ran out of time."
Redman is adamant race officials must be embarrassed about the farcical time rule.
"For the boats to be going that fast and to not really be becalm at any stage of the race and still run out of time to complete the race is a pretty ridiculous situation."
He doesn't think the catamarans will end up in the courtroom with Oracle owner Larry Ellison dragging in his lawyers to challenge their handicapped start amid claims of cheating.
"They have made the rules very strict to keep it out of the courts so I think it'll go down to the first boat that gets to nine races or, in Oracle's case, 11, to win the series.
"I think he hasn't got much to go to court on. I think it's pretty clear cut and dry on the water, really."
Despite some people questioning the Kiwiana factor of a New Zealand boat draped in foreign threads, Redman reckons most of the Napier club members have had rapport with the Team NZ crew in some form or shape.
"Some of us have sailed with those guys in a lot lower standard events over the years so we feel very associated and close to Team New Zealand."
Because the New Zealand sailors remain underdogs, he says, the patriotism from the yachting fraternity here is fever pitch.
While Americans have a monopoly in patriot games, he hastens to add backing Team New Zealand is also very much a Kiwi thing.
"It's interesting the number of people who aren't yachting people.
"I have a number of friends who text me in the mornings asking me questions about what's happening or showing their patriotism. They are not my yachting mates at all. They are from different walks of life."
So do we need to put more black in the Team New Zealand boat again?
"That's a funny one. I always thought it was quite strange that both had such similar colours from the outset, to be honest," says Redman with a laugh, adding even the sign writing on the vessels were uncannily indistinguishable.
"We need more luck right now than we need black, my friend."
The champagne at Napier club, after two bubbly breakfast mornings, is on ice but the members are hoping by the time you read this story it'll all be stale news with Team NZ proving the doubters like them wrong.