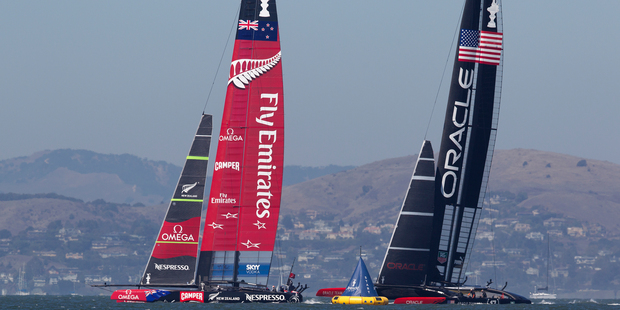 At least the arithmetic is in our favour.
Eight America's Cup points to our name - only three to Oracle.
While it appears rather unlikely the Aussie-led Americans could claim the next six on the run, the point was raised yesterday that if they win the next four, only to lose by two, billionaire backer Larry Ellison will argue the toss at the Supreme Court to claw back the two points docked for cheating.
It's a scary but distinctly possible spectre, given the litigious history of the Auld Mug, and Ellison's deep pockets.
Following the abandonment of yesterday's racing I popped into town and overheard a chap saying he wasn't convinced we could call Emirates Team New Zealand a "Kiwi" effort.
Russell Coutts of course muddied the waters in 2003 when he jumped ship.
Adding to this my kids have noticed Oracle's yacht contains more "black" than ours, and "Emirates" hardly smacks of God's Own.
But I say the grinches' notions of patriotism are narrow ones. Nationalism isn't defined by coastlines.
Notwithstanding the foreign corporate investment there's everything Kiwi about this campaign. The boat was built here, the technology and testing was carried out here and the crew are overwhelmingly from these isles.
Let's not forget the controversial $36 million thrown in by the Government, which of course is Kiwi, or "our" money, former America's Cup skipper Chris Dickson reminded us yesterday.
If the masses of eyes gazing in awe at Barker and the boys cutting up a storm on San Francisco Bay is any gauge, I'd say the "Kiwi" effort is anything but tenuous.