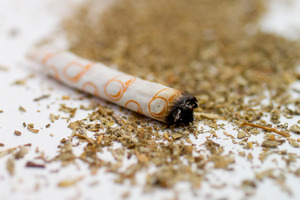 Business owners, councillors and Hastings residents will not stop until they have achieved a "drug-free CBD".
Concerned parties held a meeting last night to arrange a protest, after major issues were raised about the availability of synthetic drugs from two licensed retailers in the central city.
"We have got a group of very upset people, everybody from parents to business owners, who realise that this is far more serious than everyone first thought," Hastings District Councillor Sandra Hazlehurst said.
"[In council] we debated that there was nothing we could do in our policy to provide a location that was able to sell this product, the realisation was that it wasn't to be in a suburb or close to churches or schools, but it could be sold in the CBD.
"We don't want this in our town, but we are quite powerless to stop it."
Local people were encouraged to take "responsibility" by gathering at the town clock in Hastings from 12.30pm next Friday to support the ban.
"We have asked local MPs and the Mayor to address the crowd, then we will march with placards down to Landmark Square going past the sellers of the product," she said.
"It's an opportunity for the community to take control, it's up to us to get out and support it.
"This is a call to action, to get out and do something about this."
Cr Hazlehurst would like to see representatives from all walks of life banding together to fight for the same cause.
"The sad thing is when the Act came in, we thought it was going to do away with all psychotic substances; we banned Kronic and K2, now there's 20 variations of Kronic that have slipped through the cracks."
Hastings Mayor Lawrence Yule has already taken the concerns of his council to parliament.
"He has been to talk with government to say they have done a cop out on this, they have left the community to deal with it.
"We asked for licences to be temporarily suspended until the Act is changed."
"These drugs are supposed to be safe, they are actually very dangerous, because it's legal people have this perception that it's safe."