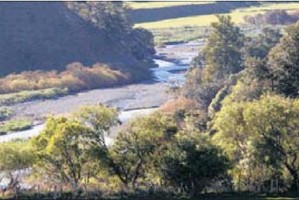 Hawke's Bay Regional Council has challenged a claim that scientific information on the Ruataniwha Water Storage Scheme has been withheld.
Ngati Kahungunu Iwi chairman Ngahiwi Tomoana said the recent draft Department of Conservation (DoC) submission on the scheme, which was replaced by a very different one, was proof central and regional government were withholding information because it wanted to push the scheme.
Hawke's Bay Regional Council chief executive Liz Lambert said the draft DoC report, which was not referenced, was "more than likely" based on work by Dr Chris Hickey of the National Institute of Water and Atmospheric Research, who developed a risk management framework for freshwater species.
She said Dr Hickey's report was "leading edge science" and it was the first time New Zealand freshwater species had been included in the assessment of safe levels of nitrate toxicity.
The draft Department of Conservation report questioned whether laboratory tests results would be repeated in the field.
Dr Hickey's research was funded by the Government's Public Good Science Fund and the regional council.
Ms Lambert said Dr Hickey's report had been publicly available since May 6 and earlier reports were available to stakeholders engaged with the Hawke's Bay Regional Council since August last year.
Dr Hickey's report is before the same board of inquiry that DoC submitted to which is assessing the irrigation scheme and the council's Tukituki catchment plan change.
A decision on consents is due about April.
Conservation Minister Nick Smith denies giving any indication to DoC staff about what should be in the DoC's submission.
Federated Farmers has likened the debate over a draft Department of Conservation document not being tabled to the recent Fonterra food-poising scare.
"I would have thought our politicians would have learned from the recent C. botulinum scare that the only report which counts is the final one," said Federated Farmers Environment spokesman Ian Mackenzie.
"Instead of shadow boxing over what a draft DoC report may have said, we need to focus on the facts and the detailed amount of evidence, which is publicly accessible."
He added there was plenty of publicly accessible information to lead the debate.
"Take the Section 32 report on the Ruataniwha Water Storage Scheme. This identifies the source for up to 70 per cent of phosphorous (P) loading at times of low flow in the Tukituki as being the four urban wastewater treatment ponds, servicing Waipukurau, Waipawa, Otane and Takapau.
"So if you genuinely want to stop the Tukituki from "running green", then upgrading wastewater plants seems an obvious place to start. That is under way but it also takes money - the kind of money economic activity generated by water storage delivers."