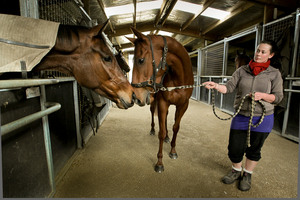 Juxtapose him with the aristocrat of sport around the world and the chances are thoroughbred horse Survived rates alongside the likes of Sid Going, Manny Pacquiao, Sachin Tendulkar and Diego Maradona.
That is, little blokes who had habitually left an indelible impression every time they entered or left myriad arenas of often unrealistic sporting expectations.
The odds stacked against them even in the face of favouritism, these hybrid hobbits have a tendency to prove pundits wrong.
The John Bary-trained Survived's $200,000 Makfi Challenge Stakes victory in Hastings on August 31 is a classic case in point.
Uncharacteristically boggy at the racecourse even by winter standards here, breeder/owner Don Gordon, of Raukawa, was battling pangs of doubt about racing Survived on the morning of the first meeting of the Rush Munro's Hawke's Bay Spring Racing Carnival that Saturday.
Most pundits were hedging their bets on the likes of Xanadu, Final Touch and Nashville to prevail.
Bary's faith in Survived didn't waver although he'll be the first to admit it could have turned to custard, in a gamble where the line between success and failure is razor edge.
Before the Windsor Park Plate feature race at 4.11pm today in Hastings, the second of the spring carnival trilogy, the horse will be looking to keep alive another chapter of equine fairytale as no mount has ever won the triple crown in the Bay.
"If he wins and wins well then he'll shut up all those people carrying on about the track [in the 1400m Makfi Challenge Stakes]," says Bary, as the TAB has Survived as a slim 20c favourite over Final Touch although some racing scribes have put Final Touch and even Nashville ahead of the Bay campaigner.
"It never worries me what they write or say. I've always had to deal with it," says Bary, likening it to parochialism when fans are asked who will win between the Hawke's Bay Magpies and Counties-Manukau in a Ranfurly Shield rugby match.
No doubt the seductive ingredients of a Bay-bred thoroughbred, a Bay trainer and Bay breeder/owner all go towards heightening the expectations of a revitalising homegrown Bloody Mary cocktail.
Gordon was named Hawke's Bay Owner of the Year on the eve of the Makfi Challenge and also came away with the Horlicks Salver for outstanding contribution to racing and breeding in the Bay.
The Bary-trained filly Recite, unbeaten in four two-year-old starts last season, was also crowned the best horse trained in the district.
It will be Bary's seventh Group 1 scalp tomorrow, if things go according to TAB's script.
Ironically, Jimmy Choux, the last Bay horse to put the province back on the thoroughbred map, claims a lion's share of those kudos as well as taking Bary to the Cox Plate and Hong Kong.
No pun intended but for Survived to fill the horse shoes of Jimmy Choux is going to require something extra special.
In many respects, the son of Zed's life story itself is symbolic of a mythical David fulfilling a Goliath-like legacy.
Born a runt, Survived, Gordon will attest, was like a foal he had never seen - smaller even as a yearling when compared with fillies - and his potential race worthiness highly debatable.
But Bary isn't too concerned about Survived's physical stature as he is about what's happening between his ears.
He doesn't possess that imposing frame of The Hombre at 16.1 hands high but what Bary sees gives him a sense of closure, regardless of today's outcome.
In the realm of certain stars aligning with moon and Saturn, the odds are stacked against Survived who has drawn the widest barrier in the field of 12 in the mile race (1600m).
No need to fret about that, either, because, as one would say in sporting parlance, "it is what it is".
Survived exudes an air of confidence, albeit not stretching to the proportions of prima donna status of the Richard and Liz Wood-bred Jimmy Choux.
Bary even has tangible evidence to back his hypothesis.
"He looks well. He has a good colour and sheen to his coat," he says of the gelding who, in fact, has a fine-bone structure that many fillies would kill for although don't tell that to Bary's Timoti Farms stablehand, Kylie Grantham.
"Shhh, don't say that too loudly. I don't want him to hear that," Grantham says, only two days before the big race as she brushes the "poor fellah's" coat in the stable in preparation for a photo shoot.
Survived didn't flinch or display any temperamental traits of other horses when strangers start gawking at them.
Stable foreman Graham Wainwright reckons the chestnut's placid demeanour found reinforcement after his trip to Australia last season.
"I find he runs up to me and he is very aggressive," Bary says of his horse who seems to have the persona of New Zealand heavyweight boxer Joseph Parker - a warrior in the ring but a gentleman once he steps off the canvas.
"He'll be a better horse on a better track on Saturday. He'll have a better turn of the foot in the last 200 metres."
A "natural athlete", Survived's eating habits and physical training isn't something the 41-year-old loses sleep over.
"It makes my job so much easier," Bary says, borrowing the old cliche of taking a horse to the water and making it drink.
"He eats most of his dinner. He also gets extra food most nights ... so it's just his build," he says of Survived but stopping short of revealing "any trade secrets" on what comprises the battler's diet.
As Grantham walked the horse in the arena behind the stables Survived definitely had a swagger about him.
With just "a few drops of rain" forecast on a balmy spring day today, Bary laughs when asked if he's likely to receive another phone call from his straight-shooting breeder/owner Gordon from Raukawa on what will effectively remain a dead track for jockey Opie Bosson.
The conditions will also suit Makfi runner-up Final Touch and third, fourth favourites Nashville and Xanadu.
It's a day of milestones for the trainer who missed out on his 100th victory in New Zealand, in Makaraka, Gisborne, on Thursday when Sunseeka failed to deliver at a venue where he had claimed his maiden victory on November 9, 2008.
"Hopefully I'll add my 100th one in the group one race on Saturday," he says, adding Sunseeka pulled up with a "soft palette" to finish third.
Winning at Makaraka would have been nice but, no doubt, it isn't the same as a group one.
Winning "black-type" races is something Team Bary prides itself in.
"We're not a big team but we target the big races with good horses."
Bosson is closer to 50 group ones, too, but Bary says milestones are red herrings because it all boils down to winning.
No Excuse Maggie, Bay Dancer and The Knight are other Bary horses in tomorrow's races.
Market: $3.40 Survived, $3.60 Final Touch, $5.50 Nashville, $7.50 Zanadu, $10 Full Of Spirit, $12 Mufhasa, $16 Pimms Time, $26 Zennista, $31 Our Famous Eve, $41 No Excuse Maggie, $61 Ransomed, $101 Capone.