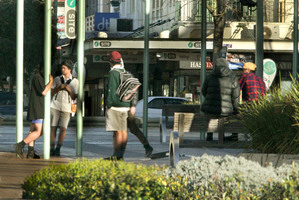 I attended a very interesting meeting at the Hastings Council Chambers on Wednesday night.
The meeting had been called by Hastings Mayor Lawrence Yule in response to a front page story in Tuesday's Hawke's Bay Today that highlighted safety concerns of retailers in the CBD.
There were probably about 80 members of the public there and I thought Mr Yule, who chaired the meeting, did a good job in acknowledging there was a problem. It would have been easy for him to have been defensive, but instead he let retailers vent.
The CBD retailers at the meeting made it clear that the problems were not perceived but actually real. Their staff and customers were being intimidated and they were sick of it.
Questions were also raised about why it took a front page story in Hawke's Bay Today to get the council to call a meeting. This is a valid point, but one has to acknowledge that the council has done some work to sort the problem out.
The problem is that it is not an easy situation to deal with.
One thing that did emerge from the meeting was just how much of a curse legal highs are in our society. It seems many kids are attracted to town by establishments selling legal highs.
There were some strong words at the meeting, but it was good that the issue was finally being discussed openly. What is encouraging is that there are enough good people in Hastings who want to resolve this problem.
There was a clear resolve at the meeting that it was time to move forward on this issue.
It is time to reclaim our streets.