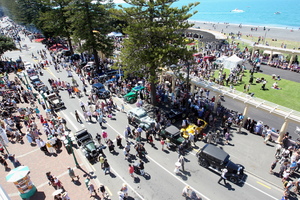 Marineland's grandstand and dolphin pool "cavity" will be used in a Napier City Council redevelopment turning the 48-year-old complex and neighbouring land into an extreme sports park, outdoor theatre and reef garden.
Scheduled for completion late in 2015, it is the next stage of the council's "Big Picture" Marine Parade redevelopment, which when initially announced last year targeted the Marineland site for a cable ski or other commercial attraction.
Marine Parade Development Group chairman Councillor Keith Price yesterday told Hawke's Bay Today the area is too narrow for the cable ski and it is "on hold" until another suitable site is found.
But the second commercial possibility, a "wave park" earmarked for northeast of Ocean Spa, is still under consideration.
In the concept, Marineland's grandstand would be kept for spectators and the pool area would become a "world-class" skate bowl, after the council agreed in-committee on Wednesday to accept redevelopment plans for Marineland, Sk8Zone and the carpark.
Relocation of Sk8Zone will result in the new skate bowl, a junior scooter area, a climbing wall, a multi-purpose area and basketball.
It is envisaged Napier Skating Trust will lease and manage the skate park and current council youth services provider Atomic Events could operate in the grandstand building.
The current skate site will be transformed into the passive recreation reef garden, after the Pania of the Reef story. A tiered amphitheatre with four views will be developed over the existing split levels between the Sunken Garden and Sk8Zone.
Funding of $1.2 million has been set aside in current year budgets for Marine Parade redevelopment, and capital funding of about $3.5 million for the balance is anticipated in the 2014-16 annual plans, for consultation with Napier people.
Friends of Marineland chairman Cliff Church was not daunted and claimed a recent survey by the organisation found 80 per cent of about 1300 "voters" still wanted a marine facility at Marineland.