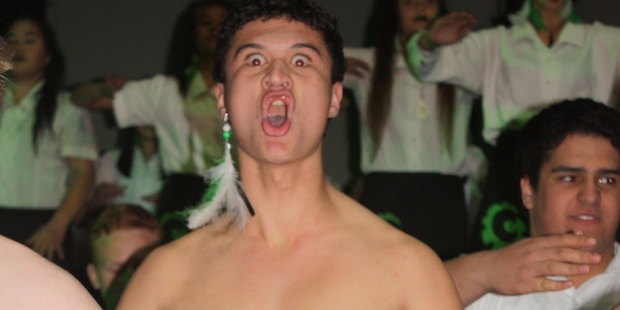 Challenges, traditional and rapping, raised the roof of the Dannevirke High School hall even before the inter-house kapa haka competition began last week.
With spontaneous chants and challenges the noise in the hall was deafening as students in the four school houses set the scene for an exciting event.
With a unique high school haka - Tutu ana te Puehu/Palma Non Since Pulvere, written by deputy principal Les Hoerara - the set piece for all, it was up to individual interpretation and delivery for one school house to stand out from the others.
With just five weeks to learn the new haka, the pressure was on, but Mr Hoerara was pleased with the way students had made the haka their own.
"Each school house put their own spin on it to make it special for them," he said. "It's also been interesting to watch the leaders who've done a great job and deserve a pat on the back."
This year the inter-house competition required just the compulsory haka, but next year Mr Hoerara said an additional item will be added.
Results:
Grant house, 548 points 1; MacDonald, 541 points 2; Simmers, 538 points 3; Paulson, 528 points 4.