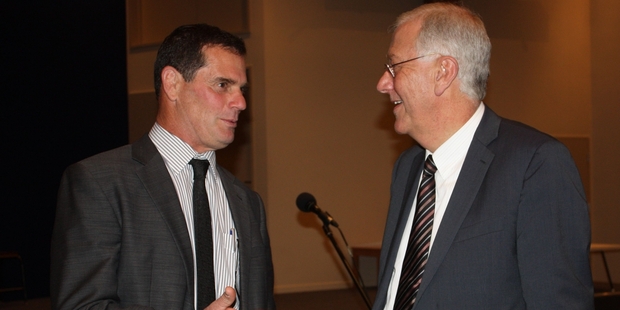 From left, Horizons Regional councillor John Barrow with David Roberts, a Tararua District councillor. Both men are standing for re-election. Photo / Christine McKay
A staggering scandal is how Horizons councillor John Barrow describes the failure to present councillors with a vital report in 2009.
Mr Barrow, Tararua representative on the Horizons council, said questions are being asked as to why a report into the economic cost of the One Plan has only come to light in the past two weeks.
"It's a scandal," he said.
"The costs of implementing the One Plan to this community were totally unacceptable, with the average dairy farm facing a loss of $191,000 a year and high-end farms up to half a million. For individual farmers this part of the One Plan was never going to work.
"But the cost analysis, which had been out since 2009, was never presented to Horizons councillors until I did so just over a week ago.
"It's staggering. We were in so much trouble. It's a disgrace and some very serious questions are being asked at the moment."
Mr Barrow said the report, by Palmerston North's Jeremy Neild and Dannevirke's Tony Rhodes, detailed costs of One Plan compliance for dairy farmers and intensive farmers in the region but that had never been tabled for councillors.
He said it had been shown on his request last Tuesday.
"This is absolutely staggering when you consider the enormity of the situation this region was facing."
However, Horizons chairman Bruce Gordon told the Dannevirke News the report is a public document and remains on the regional council's website.
"Evidence to the hearing committee into the One Plan required a financial impact report on farmers and as a result of the panel reviewing the Neild/Rhodes report, Rule 13.2 was removed because it would have been unaffordable for people," Mr Gordon said.
"Horizons handed over responsibility to the hearings panel and as a council we got on with the day-to-day business.
"It's a bit rich for John [Barrow] to bring this up now because the right decision had been made by the panel as a result of the report, but it was, unfortunately, appealed to the Environment Court."
One of those who appealed the One Plan to the Environment Court was Pahiatua's Andrew Day, who is standing against Mr Barrow for the one Tararua seat on Horizons Regional Council.
Mr Barrow says the report should have been put in front of councillors.
"For elected councillors who represent the people to not know about something that significant is horrendous," he said.
"I've made an awful lot of fuss about things at Horizons, but I never thought I'd be the one to show councillors that report."
However, Mr Gordon said he doesn't want the new era of co-operation between the regional council and dairy farmers to come off the rails because of the fuss being made by Mr Barrow.
Earlier this year the Tararua Economic Impact Group was formed, headed by Dannevirke dairy farmer Russell Phillips, to fight the impact of the nutrient budgeting issues in the One Plan, with a report from businessman Alan Benbow showing a $60 million hit to our economy from the negative impact on dairy farmers. The group has taken its concerns to the Government and Horizons and now have good working relationship, with Tararua District mayor Roly Ellis acting as a go-between.
"Dairy farmers have to consider the environment at all times when it comes to farming practice, but if we continue with the on farm work and a process of adopting new practices, then it is less likely we will ever be legislated to the extent that could have occurred under the nutrient management component of the One Plan," Mr Phillips said.
"We want to find ways of improving our environment without reducing cow numbers or milksolids production. "Together as farmers, with business people, DairyNZ, Fonterra and Horizons, we will collaboratively find practical solutions to achieve this."