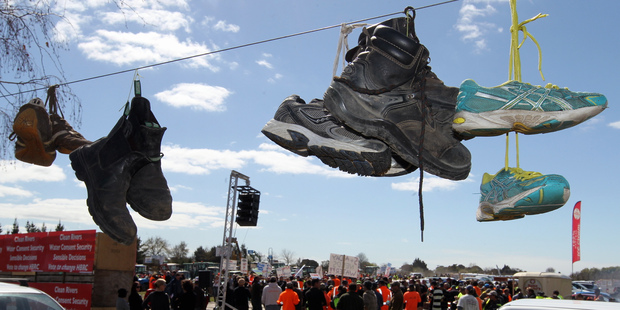 About 300 tractors took to the streets yesterday in an unprecedented protest seeking to sack all sitting Hawke's Bay Regional Councillors, with iwi saying it was a way to prevent the Ruataniwha Water Storage Scheme.
The growers, under the umbrella of the Growers Action Group (GAG), are calling for all sitting councillors to be replaced with preferred candidates, to ensure a sustainable water supply for growers.
The growers travelled from throughout the district and met at noon in Havelock Rd between Hastings and Havelock North.
Half of the tractors rallied first in Omahu Rd and travelled with placards in groups of 15, to minimise traffic congestion.
Six police units assisted at intersections.
The tractors involved in the protest ranged from small orchard vehicles to tracked behemoths.
Corporate growers were there with their employees, as were smaller orchardists.
Paul Paynter, of the Yummy Fruit Company, was explicit about who growers should vote for - GAG's preferred council candidates Rick Barker, Peter Beaven, Rex Graham and Tom Belford.
Ngati Kahungunu Iwi Inc chairman Ngahiwi Tomoana likened the council's refusal of water to growers during the recent drought to a refusal of water to save a burning building with people inside.
"We are joining the scrum against the negligent regional council over our waterways over the last 10-20 years," he said.
The iwi's water right for the Ngaruroro River, kept in reserve to maintain its Mauri, had been offered to Twyford growers but was denied by council red tape.
The iwi would be arguing in front of the Environmental Protection Agency board of inquiry for the proposed Ruataniwha Water Storage Scheme consents that the Tukituki River's life force should be maintained.
"We can shortcut that by all of us voting for change, turning the regional council around so we don't have to waste resources, energy, money - fighting the council."