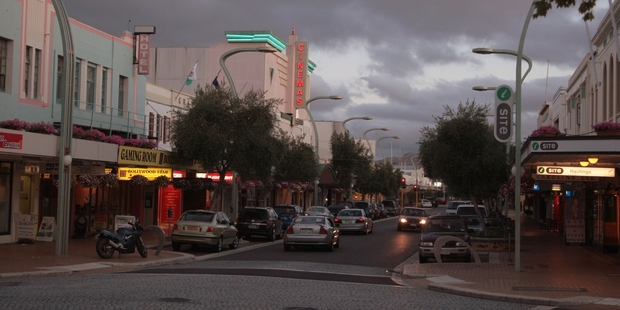 A Hastings District Council public meeting will be held tonight discussing safety in the central city, after concerns were raised by retailers following an assault of an elderly man on Saturday.
Hastings Mayor Lawrence Yule said the meeting had been called because he was concerned about the assault on a man in his 60s on Saturday by a group of youths.
"Retailers, police, some other council members will all be at the meeting. We want to be making sure we manage this issue and the security issue," Mr Yule said.
He said the council hoped measures for the school holidays, such as the ambassador programme from November and the purpose-built skate park, would help.
"A number of excellent initiatives have been signalled for the CBD which will make it even more attractive for visitors and locals.
"Council is in the process of identifying and training a number of ambassadors who will work in the central shopping area.
Their main responsibility will be to answer any queries that shoppers and visitors may have and they will also be another set of eyes as far as safety is concerned.
"We will also look at what other cities have done and what they use in their bylaws to help deal with problems like this," said Mr Yule.
"We want to look at what all the options are and we want everyone to know."
Mr Yule said it was essential members of the public felt safe when visiting the area.
"It appears that a small group of youths is causing safety concerns for the public and this must not be allowed to continue."
Hastings mayoral candidate Simon Nixon said he would attend the public meeting after hearing of the security issues from shopkeepers and shoppers.
"The centre of town is about money. Shopping. It's bad for business and it has huge ramifications when we have issues like this," Mr Nixon said.
He said he had reservations about the ambassador programme and said more of a security presence was needed.
"It is a bit of a reflection on council that it has to appear in the paper before they acknowledge there is a problem."
Hastings mayoral candidate Wayne Bradshaw said the community safety issue in the Hastings CBD had been ignored by the council for a long time.
"Back a couple of years, the council surveyed the public and retailers on what were their main concerns and one of the main ones was community safety in the CBD. From memory some two-thirds of the retail workers surveyed felt unsafe in the CBD," Mr Bradshaw said.