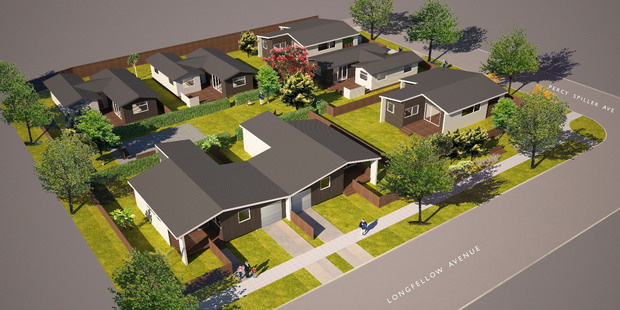 Housing New Zealand is to build seven rental homes in its first replacement project in Napier suburb Maraenui.
The plans for a site across the road from a Housing NZ service centre which reopened about four months ago were revealed yesterday.
Asset portfolio group general manager Sean Bignell told Hawke's Bay Today more plans will be revealed via letterbox deliveries over the next few days, and at a public meeting on September 27.
Demolition of the empty two-storey, four-unit buildings in the eastern corner of Longfellow and Percy Spiller avenues is expected within a month, and construction of the single-storey, two-bedroom replacement units is intended to be completed early next year.
Mr Bignell said 18 Housing NZ buildings in the area have been deemed earthquake-prone and will be levelled with the land to be grassed-over pending decisions on future use.
No building plans have yet been made for four other sites from which Housing NZ units have been removed in the last year in Longfellow Ave, Bledisloe Rd and Masefield Ave.
Mr Bignell said Housing NZ will be talking with residents about possible uses.
Decisions are also yet to be made about sites in Raureka and Camberley in Hastings.