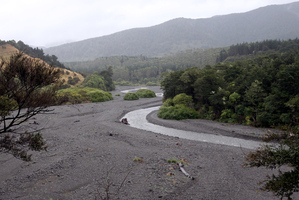 Farmer interest in the Ruataniwha Water Storage Scheme continues to grow.
The Hawke's Bay Regional Council's investment company is driving the scheme and managing director Andrew Newman told its annual meeting that more than 35 per cent of dam water has been "pegged" to a land owner's expression of interest (EOI).
"That's a significant amount of market interest - the process has been running about three months and we are ahead of our targets," he said. The bulk of EOIs were for mixed use and arable farming systems, rather than dairy.
"That is not a surprise to us - it is quite consistent with what was forecast earlier in the feasibility phase. There is quite a bit of value in the Hawke's Bay supply chain as it exists today, would be my take on that."
Nearly one quarter of water allocation is from growers transferring their water supply from ground water "which we see as an an environmental benefit to the river system".
"We want to double that, which we see as being quite achievable."
The announcement of New Zealand-based preferred investors would be made shortly and discussions with Crown Irrigation over the Government's $35 million annual funding over five years to help establish major irrigation projects, had started.
The scheme needs to raise $265 million. Investment company chairman Andy Pearce said the investors would jointly fund the next stage of the dam project.
"We intend to set up an investor committee that will make all the significant decisions, for example on the preferred design and construction contractor, what level of uptake is required to consider the project overall to be viable and quite a long list of other pieces of documentation," he said.
A final dam construction price would be agreed upon.
"That has to be acceptable from the investor's perspective in order to make enough returns to justify their investment. But equally it has to be an acceptable price from the water users' perspective in order to get enough uptake."
He said signed contracts to buy water would be needed for "a significant fraction" of the supply. "In February we will know whether or not we got the required set of consents and the conditions. We will know whether or not those conditions have an impact either on the amount of water available or on operating conditions for farmers that might make the price unaffordable to farmers."
"If the consent conditions are achieved and we have sufficient water supply contracts above the threshold then each of the parties involved in the investment will make a recommendation to their shareholders." The regional council would run a public consultation before it decided to proceed.