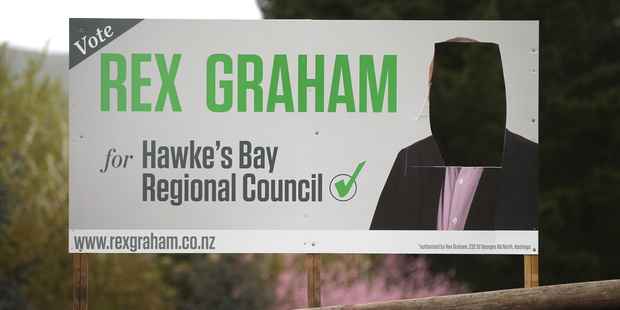 There seem to be a small group of young people around these days who, quite simply put, are up to no good.
Every community has its share of rotten eggs, but ours seem to be manifesting themselves quite a bit.
Saturday's Hastings Blossom Parade, which was a success, was nearly ruined by young thugs getting into a fight. Retailers tell us life is becoming quite tough in the Hastings CBD with shoplifting, fighting and intimidation rife.
There are other examples of this behaviour. Two mayoral candidates and at least one regional council candidate have had their faces literally cut off their billboards. Election billboards can be a bit annoying, but candidates have a right to put them up without fear they will be defaced.
Another example was a truck fire on Saturday. Fire investigators attending a truck fire at Meeanee Quay in Westshore Napier found balls of paper had been stuffed inside cavities around the motor.
These incidents are bad enough if you look at them individually, but if you lump them together it is quite disturbing. There are youngsters (and I presume they are young) going around behaving in an extremely anti-social way. One could write a whole book on how social ills affect the youth and have a bearing on them becoming dysfunctional, but there comes a time when this sort of behaviour needs to stop.
Instead of the community being fearful or turning a blind eye, we need to join forces with the police and come down hard on these idiots.
Obviously I am not encouraging vigilantism, but a strong message has to be sent that behaviour like that will not be tolerated.
These are our streets, not theirs.