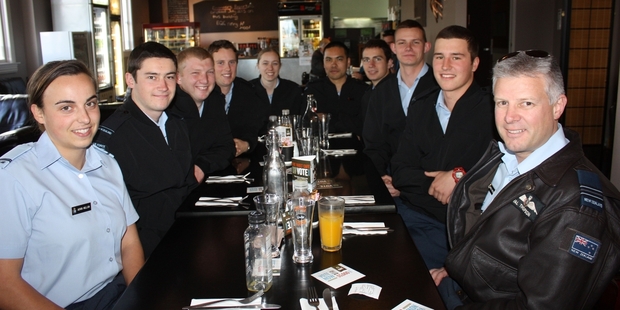 The latest wing of young hopeful pilots in the Royal New Zealand Air Force made a flying visit to Dannevirke and the Hawke's Bay last week.
The students stopped into Dannevirke to check out the aerodrome, before going on to Napier.
"Sometimes when they're pilots, they may drop into both places and need to gain an understanding how different control towers work," Flight Lieutenant Wal Thompson of Ohakea said.
The students have some difficult training ahead of them and have just spent a month in Auckland studying survival and aviation physiology.
"They need to learn what flying does to their body," Chris Fon-Lowe, a pilot officer, said.
Now the 10 men and two women are about to start flight training which will take nine months. They will then move to the King Air advanced pilot trainers for another six months of training.
But not everyone is expected to make it through, Mr Thompson said.
"It takes two years of training before they get their wings and are able to fly Hercules, P3 Orions and helicopters for the air force and it is unusual for everyone on the course to pass. But it is possible," he said.
"Trainees face two big hurdles. Getting to fly solo and perfecting their hand/eye co-ordination.
"It's being able to think and fly and it's that cognitive aspect of their training which stretches them about half way through their course."
However, Mr Thompson said if the students get through the first half of the air trainer phase they're likely to gain their wings.
For Aeron Mellish her ambition is to fly P3 Orions on maritime surveillance.
"The air force is great and we'll have some wonderful experiences," she said.
But it's not all rookies wanting to gain their wings, a number of the new wing have had varied experiences, with one having been a navigator.