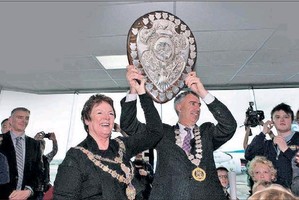 Hawke's Bay rugby officials have been left slightly miffed over suggestions they used Blu-Tack adhesive mix to secure a couple of crests that came loose from the Ranfurly Shield while it was held in the Bay.
According to an online report yesterday, when the Shield was handed over by Magpies skipper Mike Coman to his Counties counterpart it appeared a couple of the crests were stuck on, and were tucked into the main silverware to hold them in place.
It was reported the crests had "obviously fallen off" during the Bay's week-long celebrations, which included getting it out and about among the community as much as possible.
Not so, Hawke's Bay Rugby Union chief executive officer Mike Bishop said yesterday.
"That was the state we got it in."
However, he wanted to make it quite clear that the union was not blaming Otago for the temporary adhesive repairs.
"It's been on a bit of a merry-go-round lately," Mr Bishop said, adding that teams who got their hands on it liked to get it home and get it out and about.
He said that on the evening of their win over Otago, Magpies team manager Neil Webber spotted that two of the crests were stuck on with Blu-Tack: "Very lightly, I might add."
He said that so the crests would not come loose and possibly be lost, Tony Lamborn, the Shield minder for the night in Dunedin, gave them to him for safekeeping.
"It's interesting that no one even noticed it when we arrived at the airport and there must have been hundreds of shots taken with it like this."
Mr Webber said he used stronger patches of the adhesive material to fix the crests in place on the Monday night so it could be put on parade and display.
Mr Bishop said plans were underway to get the crests properly attached but the Counties game changed that - and it was taken north before the job had been sorted.
A Counties Manukau spokesman said he was not too concerned and the Shield had subsequently been repaired and was in good shape for his union's defence against Taranaki tomorrow afternoon.