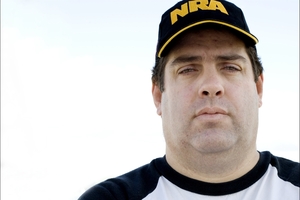 A complaint that an election billboard breaches the codes of the Advertising Standards Authority (ASA) because of the slogan "gets things done" has not been upheld.
The complaint was made by Auckland blogger Cameron Slater, who has posted a copy on his Whaleoil website.
"I am writing to complain about Hawke's Bay Regional Council candidate Ewan McGregor's election hoardings," the letter of complaint says.
"They clearly state 'gets things done'. Councillor McGregor has not made any effort to justify this statement. His website overthefence.co.nz has not been updated since 2010, indicating he has done nothing in the previous three years."
Mr McGregor was reluctant to comment on the matter, because the ASA had asked for no media comment until the appeal period had passed, but said: "I've got a completely new website so it's not even relevant".
Mr Slater is an associate of Hawke's Bay political campaigner Simon Lusk, who has said he is running a negative third-party campaign to unseat Hawke's Bay regional councillors.
"I got sent the photo and I thought I'd just rark this up - nothing will come of it because it never does, but it's worth a crack," Mr Slater said.
"I've got a reputation of complaining to various bodies about people."
He had set up Auckland mayor Len Brown twice for a fall after being inspired by overseas scandals, he said.
"It's looking for plays overseas that have worked overseas and trying to apply them here."
He said Mr Lusk read "an incredible amount" about overseas politics, looking for what might be applicable in New Zealand.
The two became known to each other through Mr Cameron's Whaleoil blog site and friends after Mr Lusk invited him to Hawke's Bay to go gamebird hunting.
He said Mr Lusk was a canny hunter who knew "every nook and cranny" of Hawke's Bay rivers.
He said he was a staunch environmentalist.
"He cares more about rivers and the environment than he does about politics."
Mr Slater does not appear to share Mr Lusk's or Mr McGregor's environmental sentiments.
After being informed of Mr McGregor's campaign to turn old farm dams into permanent wetlands, which would increase gamebird numbers, he said: "That's farmers' productive land - turning them into wetlands - they won't make money off that."
Mr Slater said he did not intend to appeal the ASA decision.