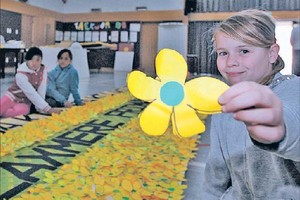 If today's Blossom Parade in Hastings attracts a fraction of the number of people it once did, it will be doing well, Hastings City Business Association manager Susan McDade says.
The Blossom Parade will follow a new route this year, as well as feature recently crowned Blossom Queen, 22- year- old Vanessa Kirk.
The parade will be preceded this morning by the business association's Blossom Breakfast at the Hastings Inner City Mall, with a gold coin entry fee going towards the Leukaemia Foundation.
"It's a celebration of spring, rebirth and a celebration, really, of Hastings, so it's definitely something that a lot of people look forward to," Mrs McDade said of the festival and parade.
"This will be my first one, but in general I think people really look forward to it. Everyone knows about it. It's something that has got a great history."
The Blossom Parade will kick off at 1.30pm and for two hours wend its way up Warren St, along Queen St to Nelson St, and then up two blocks of Heretaunga St West before heading a short block down Market St, on to Eastbourne St to cross the railway line, and ending in Russell St beside Civic Square.