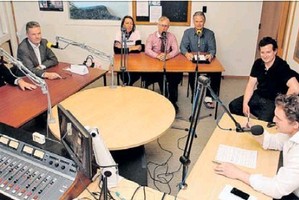 Napier mayoral candidates have spoken out against amalgamation with Hastings, but are willing to work to make such a change work if it is forced on their city.
The options were addressed yesterday by five of the six candidates in an hour-long debate on community access station Radio Kidnappers.
Councillors John Cocking, Bill Dalton, Rob Lutter and Michelle Pyke, and non-councillor David Trim expressed hopes of protecting Napier interests and greater sharing of services between councils.
Positive+Change group option Roy Sye was unable to be present for what was the fourth forum for the hopefuls since nominations closed four weeks ago.
Questions were posed by former MP and prospective 2014 general election Labour Napier candidate Stuart Nash.
The worries were encapsulated in the words of Mr Trim, who said that from his business experience there is "no such thing as a merger".
"They are takeovers," he said, adding the "fear" was that Hastings would "take over" Napier.
Mr Dalton, a two-term councillor who is only seeking the mayoralty this year, did not see amalgamation as inevitable.
He said that if people didn't want amalgamation they should "get out and vote" when they had the chance to help decide the important issue.
The four already on the council of retiring Mayor Barbara Arnott drew attention to the servicesharing arrangements that already exist - in 33 aspects of civil administration and operation.
Messrs Cocking and Dalton had just come from the joint councils Omaranui landfill committee meeting.
Aside from the amalgamation issue, the mayoral candidates believed tourism, and Napier's need to drive tourism for the region, was a major issue, as part of economic growth and jobs.
Ms Pyke, the only female candidate, said she was concerned about the prevalence of lower-income households in the city, and highlighted the need for initiatives in economic growth to include all sectors.
Voting in Napier is by postal vote, with papers being delivered in the week of September 20-25.
Yesterday's debate will be able to be downloaded at radiokidnappers.org.nz (1431AM and 104.7FM) from today.
It will also be replayed on September 28 on the station's Double Take programme.
The three candidates for the Hastings mayoralty are expected to face the Radio Kidnappers microphones for an hour from 10am on Monday.