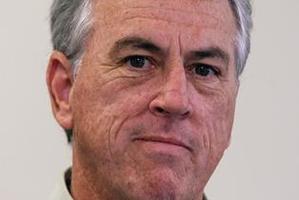 So okay, we lost the shield but the way things are going, we are set to pick up a Cup. A Cup with as much colour and history as the Ranfurly Shield - the latter of which has over the past month become like the centrepiece of a very physical game of pass the parcel.
Not that we are likely to see the thing or be afforded the opportunity to grasp and embrace it the way hundreds of Hawke's Bay folk did with the log of wood.
Oh no, should the America's Cup come down this way, and it is looking increasingly certain that it will, it will be sealed away after doing the obligatory street parade through central Auckland.
While this America's Cup has been soiled by avarice and some shady tactics by a few members of the Oracle squad, it has, however, grabbed plenty of public attention. For two reasons. One: We can take on the United States in something other than rugby and beat them.
Two: It may not be yachting as we know it, but it is actually quite thrilling to watch.
To me, boats have hulls and hulls sit in the water, but these things are designed to lift their twin hulls out of the water.
While it doesn't look right, it does (and even a cynic like me has to agree on this one) look pretty spectacular.
I doubt even the best team of scriptwriters in Hollywood, just down the California coast from San Francisco where the dragsters are spraying salt, could have come up with the scenario for this: courtroom stand-offs and billionaires, the little guys taking on the big guys and coming up champs.
Even a great swathe of the American populace has climbed aboard the Kiwi boat with us as supporters.
And then there's good old Dennis Conner, who stepped up to declare that New Zealand should be the home of the America's Cup because we are the leading yacht exponents, in sailing and design, in the world.
He has a good point when you see what's been happening out there . . . although it wasn't as if there were five or six other countries having a lash at becoming the challenger. And we did pretty well in the great round-the-world voyages too.
I guess that's what comes of living on small islands.
So what will become of the foils and rigid sails should the silverware nestle here?
Let's hope some common sense applies and hulls are put back in the water in the pursuit of tradition, and getting a few other lands involved.
Although yes . . . they are pretty magic to watch.