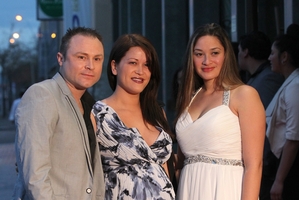 International performer and Hastings woman Toni Huata claimed her first title at the National Waiata Maori Music Awards for work on her fourth album, Hopukia.
It was named the best Maori Pop Album at the awards ceremony at the Hawke's Bay Opera House in Hastings last night.
Hopukia was Huata's first album to rank in the Official New Zealand Music Chart when it was released in 2012.
She had described it as the result of a "musical makeover" because it was her first in the dub and electronica genre, working with New Zealand specialists, Paddy Free and Gareth Farr.
Huata grew up in Hastings but is now based in Wellington. Hopukia was a collection of 10 bilingual songs and when it was released, she had planned to take it on tour to audiences in the Pacific, Australia, Europe, UK and Asia during 2012 and this year.
Huata was among six winners across 11 categories.
Whakatane woman and former St Joseph's Maori Girls' College student Maisey Rika was the major winner, taking home four awards.
The singer/songwriter won the Best Maori Traditional Album, Te Reo Maori (Whitiora); Best Maori Female Solo Artist; Best Song by a Maori Artist (Tangaroa Whakamautai); and Best Maori Song Writer.
Tangaroa Whakamautai also won Best Music Video by a Maori Artist, by director Shae Sterling.
Another singer with Hawke's Bay connections, Kirsten Te Rito, won the Radio Airplay Record of the Year by a Maori Artist in Te Reo Maori Award for Oranga. Te Rito lives in Wellington but her family is from Mahia.
Auckland-based urban singer Pieter T won two titles for the Best Maori Urban Rap/Hip Hop/ RnB Album (Completion) and the Best Maori Male Solo Artist.
Former Nesian Mystik lead singers Te Awanui Reeder claimed the Best Maori Urban Roots Album Award (Heartbeat).
The Radio Airplay Record of the Year Award by a Maori Artist, sponsored by NZ on Air,went to Stan Walker for his song, Take It Easy.
There were also three recipients in the Nominated Section.
It included performing arts advocate Ngamoni Huata, Rotorua (Keeper of Traditions Award); The Waipatu Maori Catholic Club, Hastings (Lifetime Contribution to Maori Music) and pop/rock Golden Harvest (Music Industry Award).