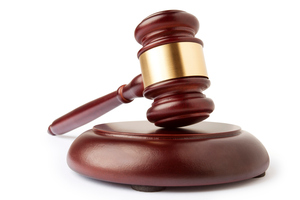 A Hawke's Bay lawyer has escaped a jail sentence after admitting indecencies with a pre-teen girl and assault on her and her brother more than 25 years ago.
Appearing in Napier District Court yesterday, the man was sentenced to nine months' home detention. He was denied name suppression, but Judge Jonathan Down barred publication of the name for 48 hours to enable counsel Russell Fairbrother QC to lodge an appeal.
Details which could lead to the identification of the victims is also suppressed, and if Mr Fairbrother lodges the appeal, the man's suppression order will remain in effect pending the outcome in the High Court.
Judge Down permanently suppressed the "details" of the name of the man's employer.
Mr Fairbrother had sought that the man be discharged without conviction, but the Judge ruled the consequences were not likely to be out of proportion to the offending and other circumstances, although he accepted the man's employment could be at risk.
The Judge accepted that almost from the outset of the offending, the man had done everything possible to redress the situation, including undertaking counselling, and other steps which assisted her family.
He had also wanted to "self-refer" to police at the time, but it was only recently police became aware. The man co-operated, admitting the offending and pleading guilty.
He had also established good character, and there was nothing to suggest any further offending.
The man's steps and good character also accepted by Crown prosecutor Fiona Cleary, although the Crown opposed the application for a discharge without conviction.
Offences with the girl happened when the man got into her bed and rubbed his hands over her chest and genital area, initially on the outside of her clothing, but also with what Judge Down called "skin-to-skin" contact.
The girl had also recalled being strapped on her hands and body with a leather belt by the man, while the boy recalled being thrown against a wall, hit about the body and hands, and being slapped with a jandal.
Mr Fairbrother said the man had been involved with a religious group around the time of the offending, and may have believed that the assaults were punishment accepted by the church.