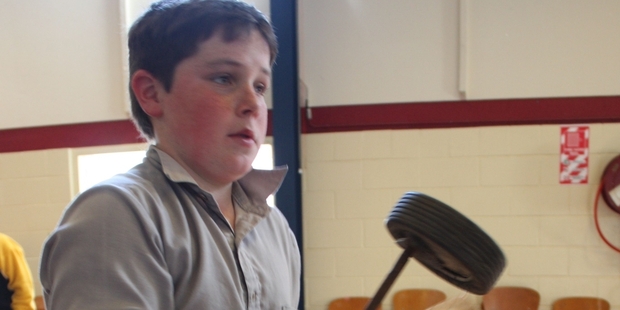 Gayle Ward is a gem with a reputation as something of a hoarder, Megan Seatter of St Joseph's School says.
"Gayle is our school caretaker and is very good at finding things which need recycling. She's a bit of a hoarder, but an absolute gem," Mrs Seatter, the school's acting principal, said. "Gayle does so much for our pupils, we're very lucky."
Last week Year 7 and 8 pupils at St Joseph's School were busy building go-carts, reusing plastic seats Mrs Ward had stored away.
"I was watching television one night and saw how another school was using the seats to build go-carts. I knew I had plenty stacked away and now it's wonderful watching the children get into the groove and thoroughly enjoying building their carts," she said.
Utilising the experience of dads and grandads, teacher Lisa Higginson said the senior children were loving hammering, sawing and nailing their carts together .
But there was a strong link back to the classroom and the curriculum, she said.
"We've just finished a unit on reuse, reduce and recycle, so this all ties in. It's neat to see fathers and daughters working together on their projects. We're very lucky to have dads and grandads willing to give up their time to help out."
Pupil Ana Murphy said she had some building experience. "I built a playhouse with my dad's help," she said.
And building a go-cart wasn't new for Taylor Lock. "I've done some building and I've built a cart before," he said. "I think our carts will look pretty good when they're finished."
Logan Chester had used tools before and had built "bits and pieces".
"It's been good being able to use stuff I don't use everyday and it's fun building stuff with friends," he said.
Along with the recycled seats, Tumu Timbers donated timber, while Hamish Schmidt donated the wheels for the carts.
Once back in the classroom the pupils were writing manuals on how to build a go-cart, Mrs Higginson said.
"The key will be if others can follow their instructions. Today has been fun, but the children are learning from it as well," she said.
The carts will be on sale at the St Joseph's School gala day, this Saturday from 10am to 1pm.