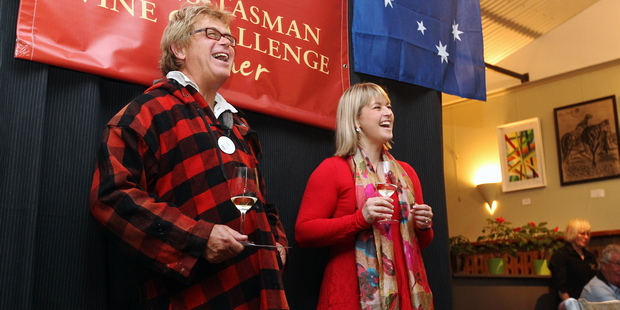 Within the next year there might just be an invitation arrive in the mail for Clearview winemaker Tim Turvey.
An invitation from his daughter, Katie, who is the winemaker at one of Australia's leading wineries, Kilikanoon, in the heart of South Australia.
It will likely be an invite to a "re-match" in the wake of a unique "father vs daughter ... wine vs wine ... TransTasman Wine Challenge" staged at Clearview Estate last Saturday night.
The evening of blind tasting by the 67 guests took place at the winery's restaurant accompanied by a special five-course meal put together by chef Peter Hallgarth.
Six wines from Clearview and six wines from Kilikanoon, which was voted Australian Winery of the Year 2013, accompanied the courses.
It started out very promisingly for the Aussies - with Katie delighted to hear that the Kilikanoon 2013 Riesling got the nod over Clearview's Reserve Sauvignon Blanc 2009 when they accompanied the seared big-eye tuna starter.
So one up to the Aussies.
But then it was one-all after Clearview's Reserve Chardonnay got the nod ahead of Kilikanoon's 2012 Semillion.
It was 2-1 when Clearview's gewurztraminer beat the Clare Valley-based winery's pinot gris, and then 3-1 as, accompanying roasted lamb with kumara mash and toasted walnut syrah jus, the local Old Olive Block 2012 nudged past the Kilikanoon Cabernet Sauvignon.
But the turning point came when Clearview's acclaimed 2009 Enigma Merlot was tasted and savoured alongside Kilikanoon's equally-acclaimed 2010 Shiraz.
The Enigma got the nod by 30 to 27 and that gave the win, with one wine to go, to Clearview, which went on to take five of the six categories.
Of the win against one of Australia's best, and his daughter, who has built a strong reputation as a leading winemaker across the ditch, Mr Turvey smiled and said he did not labour the point too much on the night. "We are super competitive though - put it that way."
The banter between father and daughter was embellished by the banter from the diners and tasters who got into the transTasman spirit of things.
And yes, there was likely to be a re-match, Mr Turvey said.
"She is certainly keen, and I'd like it to be over there in the Clare Valley."