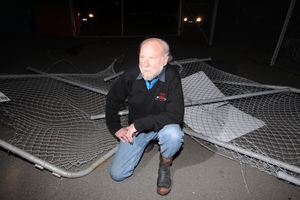 A $60,000 "Kermit green" fishing launch has been stolen in a crash-raid on a Napier boat compound, before its new owner has even had it in the water.
The theft of the newly painted 6.4m boat, 8 Ball, and its trailer, and the damage to the Corunna Bay lock-up's gates and fences, was discovered by workers at a neighbouring firm yesterday morning.
A red vehicle - its paint chips were on gates and the ground - had crashed into the compound during the night after the thieves had apparently cut open a lock at its Corunna Bay Rd entrance, below the western end of Hospital Hill.
About eight other mainly white or dark-coloured boats were also stored in the yard, up against a fence facing on to the busy State Highway 2 stretch of Hyderabad Rd between the Prebensen Dr roundabout and the rail crossing at Pandora Rd.
The theft stunned the boat's owner, long-time Hawke's Bay Sports Fishing Club member Peter Thompson, who was starting to live "a dream" when he bought it from Hamilton just over a week ago.
"They must have bashed hell out of the red vehicle when the bastards crashed through the gate," he said. "It will have a bit of damage, there was glass and plastic from the lights on the ground."
Mr Thompson believes someone must have seen the boat as it was being taken or since the theft.
Its new green paintwork, and the "8 Ball" in black, made it particularly distinctive, and he was last night pleading for anyone who had seen it to report it to the police.
Having been vacuumed clean after it arrived in town, it had little on board apart from its 225hp 4-stroke Yamaha engine and about 150 litres of fuel.
Mr Thompson had had a moored boat, but bought the trailer boat planning to see more of the country, and eventually some America's Cup racing on Waitemata Harbour.
"We're allowed to dream," said Mr Thompson, who as owner of Total Mowers has experienced the despair of burglary before, usually the theft of chainsaws.