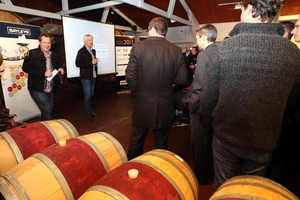 Last night Hawke's Bay A&P Bayleys Wine Awards organisers greeted about 70 members of the region's wine industry and outlined how they hoped to use the awards to promote and celebrate local wines.
In a final gathering before entries for the 2013 competition close, Hawke's Bay A&P chairman Brent Linn said the evening, held at Vidal Winery Restaurant in Hastings, was aimed at outlining the objectives of the competition and why it was so important for the region.
"There are three things the competition wants to do; identify, promote and celebrate wine in Hawke's Bay.
"These awards are for the benefit of the wine industry and why regional wine competitions are so important for the Hawke's Bay industry and the Hawke's Bay region."
It was also the last chance for organisers to speak to industry members before entries for the 2013 wine awards competition closed on September 13.
Hawke's Bay's regional awards are the largest regional wine competition in the country and entries are only accepted from wineries with wine made from 85 per cent Hawke's Bay grapes.
Wine awards chairman of judges Rod McDonald said: "When you are judging wines in a small geographic area you begin to notice and understand the subtle differences in the wines, which is the wonderful part of judging these shows." Former chairman of judges and member of the wine advisor panel Tony Bish said: "We have a portfolio of wines that is the envy of so many other regions around New Zealand. Hawke's Bay wines can grace the table of any restaurant around the world with integrity and dignity."
The awards night was initially run as a cocktail party but moved to a formal dinner in 2005 and is held in the historic Waikoko Gardens. The awards dinner takes place on October 22.