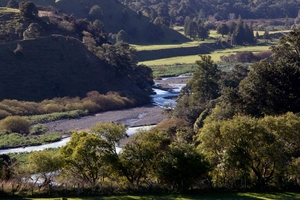 Farmer interest in the proposed Ruataniwha irrigation scheme is strong, with 30 per cent of water provisionally allocated, the regional council's investment company managing director Andrew Newman says.
The Hawke's Bay Regional Council Investment Company is leading the project that involves the development of a water storage dam and the process of securing contracts for water supply.
"At the end of the day the scheme will fly on the back of enough people being interested on purchasing access to water," Mr Newman said.
He asked Duncan McLeod, the commercial manager of the investment company, for a daily update on uptake figures.
"As of today we are up to 27.5 million cubic metres of water in terms of memorandum of understandings and I'm happy to say we have a fair chunk in the pipeline."
The land represented by the memorandums was 9080ha, with a mixed pattern of land use.
The scheme proposes the construction of a reservoir capable of storing 91 million cubic metres of water which could potentially irrigate 20,000ha to 30,000ha, depending on land use.
"What that says is that in terms of water demand we are in pretty good shape."
The initial goal was a 40 per cent uptake.
The other main irrigation scheme strands were progressing well, Mr Newman said.
Raising the $265 million capital needed for the project "is going quite well"and two tenders to build the reservoir had been received.
"That part of the process will give you a very good feel for the affordability for the scheme," he said, and gave "clarity" on the price of water supply available in two months time.
The board of inquiry that will assess the resource consent application and the irrigation scheme and the council's Tukituki catchment plan change is due to run hearings in November this year, with a decision due about April.