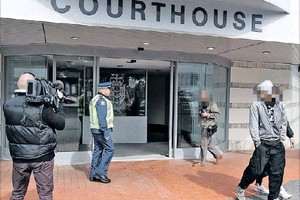 A metal detector at Napier Courthouse was not operational yesterday when a man was stabbed while waiting in an upstairs foyer.
The victim received a wound to his hand and was treated by court security staff at the scene after the incident happened at about 11am.
Ministry of Justice General Manager for the District Courts Tony Fisher said an attack of its sort was "extremely rare" and an internal investigation into the attack would take place.
"We take the issue of court security very seriously and we are investigating what happened.
"Security screening is conducted full-time at our largest courthouses. At our smaller courts, including the Napier courthouse, security screening operates at peak times when the majority of court users enter the building, or when there is a known pre-existing security threat.
"At the time of [yesterday's] incident, the walk-through detector was not operating but court security officers were patrolling the public areas and courtrooms."
The detector had been operational and manned by two court security guards earlier in the day.
A witness said there was a "quick tussle" involving a "short knife" and police arrived five to 10 minutes later.
The victim was treated by security staff at the court before St John paramedics arrived and transferred him to City Medical in Napier. He received a wound to his hand during the altercation and left the court with his arm in a sling. He was able to walk out to the ambulance.
Blood was splattered across an internal doorway to the foyer of the courthouse and over a large section of flooring.
Police interviewed witnesses at the scene who were in the court for Criminal List day, the busiest day of the week.
Yesterday afternoon, a man was arrested at a Napier address in connection to the incident.
He was questioned by police and was expected to be kept in police custody overnight. Charges were expected to be laid today.
Mr Fisher said despite the recent departure of a member of the security team, staffing levels at the court were normal.
"The court security team leader recently retired and has not yet been replaced but security numbers fluctuate from day to day for a range of reasons, such as court security officers attending satellite courts, and the number of personnel on site today was normal."
Improved security screening was introduced to courts across the country in 2009. Mr Fisher said this resulted in an immediate improvement in court security. The number of potential weapons people had tried to bring into court had fallen from one in every 77 people screened in 2008, to one in every 186 in 2012.
There had also been a decrease in the total number of incidents reported.
In 2008/09 there were 557 reported security incidents, 211 considered serious. In 2011/12 this reduced to 361 reported security incidents, 78 considered serious.