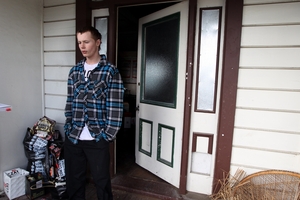 Three young men accused of holding down another teenager while he had petrol poured over him and was set alight have had all charges brought against them dismissed.
The three, Jayden Wardle, 19, Michael Downey, 18, and Daniel Downey, 17, had been on trial in the High Court at Napier on charges of causing grievous bodily harm.
Daniel Downey had name suppression up until yesterday when he told Justice Stephen Kos he did not want a permanent suppression order made as he wanted everyone to know he is innocent.
Matt-Dillon Shannon, 19, stood trial last year as the principal offender during the attack at his birthday party.
He was found guilty of causing grievous bodily harm after dousing the complainant, who was at his house for a party, in petrol and setting him alight.
The complainant had serious burns to his upper body as a result of the actions.
In an interview with police a month after the 2011 incident Shannon identified the three teenagers as the people holding the complainant down.
During his sentencing last year Shannon received a two and a half year discount for helping the police identify his co-offenders.
However, in court yesterday Shannon admitted he could not be 100 per cent sure of the identities of the people holding the complainant.
Under cross examination by the trio's lawyers Russell Fairbrother QC, Richard Stone and Amit Malik, Shannon admitted it had been dark and he had been intoxicated at the time.
In relation to Daniel Downey, who said he was outside at the time the attack occurred, Mr Stone asked: "You think you saw him but in your drunk befuddled state, you were mistaken weren't you?"
Shannon replied: "Could have been, yes."
Crown prosecutor Clayton Walker told Shannon if he was unsure about who had been holding the complainant down then the court needed to know.
He asked Shannon if it was possible he had got it wrong.
Shannon said possibly he could have been wrong because of how intoxicated he was, but said he still believed the information he gave to police to be true.
No further questions were asked of Shannon.
The three accused were discharged a short while later and the jury dismissed.
Justice Kos said Mr Walker "very fairly" did not oppose the application for discharge.
Outside court Daniel Downey said he was glad the trial was over.