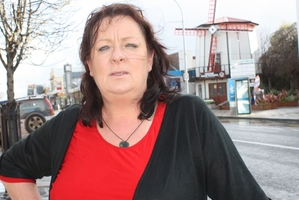 Coral Clark is a mother and grandmother who says it's never too late to start on a learning journey.
In 20 years Coral has gone from being a solo mother to about to qualify as a social worker, but admits it hasn't been easy.
"I was just 30, a solo mum, living 20 minutes from town at the time when the powers-to-be were clamping down on beneficiaries," she said. "My youngest child had just started school and I was told to make an appointment with a caseworker at the employment service.
"I was dreading that appointment and couldn't see how I could change my circumstances. I felt intimidated at the prospect of being forced to find work in Dannevirke because I knew there was little to choose from and I had no qualifications as I had left school at 15. I had been job hunting for months, but had no luck finding employment where I would earn enough to run a household and pay for the petrol to drive to town each day.""
"I was expecting the normal humiliating dressing down for my status, but I was pleasantly surprised," she said.
My caseworker was an older man with a positive and empowering attitude. He told me I was going to have to sign up for a course in Dannevirke. The only course available was a Manawatu Polytechnic course held at the old nurse's home at the hospital. It was a six-month course covering typewriting and basic computer skills.My first thought was 'oh God how can I get out of this?' I was feeling trapped and panicked."
When Coral's caseworker asked what skills she had, she answered, "I don't have any."
"His reaction confused and surprised me," she said. "He said 'you are very clever to have got to 30, caring for two children on your own with no skills'. He went on to point out exactly how skilful I would have to be to survive on a benefit, manage a house and the health and wellbeing of two children. It took me a while, but I started to get his point. I had lost my confidence while on a benefit and I was under-estimating my ability."
Carol enrolled on the course, somewhat reluctantly as she'd never touched a typewriter or a computer before. "I apologised to the tutor but she just said , you'll have no bad habits to change and if I was prepared to go to class every day and listen and learn, she would have me touch-typing in six months. And she did. It was amazing I could type 50 words a minute and had three certificates to prove it."
However Coral's self-confidence waned when she didn't have instant success in finding a job. "I heard the Trade and Commerce group were running a new computing course in town and I was encouraged by Lorraine Wallace to enrol. I qualified for the course and once again I was learning. I was like a sponge. I couldn't learn quickly enough for my liking. I had the learning bug and I felt great. I learned desktop publishing, word-processing, spreadsheets and databases."
Lorraine then contacted the Dannevirke Evening News to see if there was an opportunity for work experience for Coral. "They agreed and in no time at all Coral was working full time," Lorraine said.
For two years Coral worked in the production department before work began to run out and she then went back into the world looking for a job. "I did a bit of farm work, hotel work and supermarket work, but all of these jobs were part-time and I needed full-time employment," she said. "A friend told me the Oringi freezing works had been employing meat inspectors and I should check it out. I made the call and got my first glimpse at the inside of a freezing works. It was a shock to the system but next thing I was on a rollercoaster, and before I knew it I was at the Takapau Freezing works training to be a meat inspector for AsureQuality. "I made it through, and years later I still work as a meat inspector when the third chain goes up at the end of each year. It turned out to be a very valuable qualification."
However, suffering intense pain standing for eight hours a day on a concrete floor at the freezing works, Coral discovered she had a compressed sciatic nerve and spinal arthritis. "I had surgery and five vertebrae were fused and bone cut away to relieve the nerve pressure."
"With the help of a good friend I travelled every day for 12 weeks to the AMP WaiSplash pool in Dannevirke and swam myself back to a clearance for work, but I knew I would have to change my employment so I could support myself for the next 20 years and beyond. I decided to follow a dream I had to work in the helping profession. A careers advisor at the Eastern Institute of Technology in Taradale told me he thought I was well suited for social work and encouraged me to take on the degree programme they were offering in social sciences. I was scared stiff when I found I had been accepted into the programme."
"But I have the satisfaction of knowing I'm almost 50 and on the verge of becoming a qualified social worker, so that outweighs it all," she said. "I would recommend taking on the challenge of further education, because the reward can be self-determination, increased self-esteem and options that were never there before."
Adult Learners Week/He Tangata Matauranga begins today