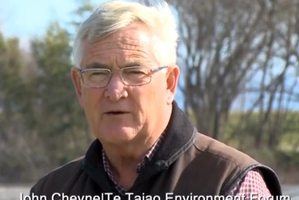 Fish & Game is under fire for aggressively pursuing local Government election incumbents seeking another term on the Hawke's Bay Regional Council.
Regional council deputy chairman Ewan McGregor had written to the Hawke's Bay branch of Fish & Game complaining about comments made by the organisation's manager Pete McIntosh and a video released targeting the proposed Ruataniwha Catchment proposal.
Mr McGregor was upset at Mr McIntosh's opinion piece published in Hawke's Bay Today on August 8, which said Fish & Game had no confidence the regional council could deliver promised improvements on water quality and river flows, particularly for the Tukituki River.
Mr McGregor singled out Mr McIntosh's comments, which suggested the Tukituki River was not fit for people to swim.
"I have to keep an eye on my daughter [when swimming in the Tukituki] to make sure she doesn't put her head under water and risk ear infection ... or worse," Mr McIntosh's opinion piece said.
Regional council scientists presented on river water quality, at a recent council meeting, and said the Tukituki was safe to swim in.
Mr McGregor also highlighted a video which criticised the regional council's development of Ruataniwha dam.
Those who appeared in the video included Mr McIntosh, Fish & Game biodiversity officer John Cheyne (also from Te Taiao Environment Forum), agri economist Barrier Ridler and regional council candidate Tom Belford. Their complaints included the lack of time to understand the mountain of reports on the proposal, pollution generated by increased farming activities and the cost of the project.
Mr McGregor said he wondered if Fish & Game had funded the video.
"We need to know if any funding that went into that video has been sourced from anyone with a direct stake in this election. If this is so then Fish & Game is a front for a candidate or candidates. If not, I would like to know to what extent have license holders been consulted on this," Mr McGregor said.
Fish & Game Hawke's Bay director Greg Dudley said members would discuss Mr McGregor's complaint at the organisation's next meeting.
Mr McIntosh said he did not believe Fish & Game had taken a harder line on regional councillors. "Fish & Game wants to improve water quality and improve water flows, enhance wetland habitats, we don't pay much heed to elections.
"This is the type of work the organisation has been doing for about 150 years and we've been through plenty of council elections during that time."
Mr McIntosh said he believed the role of the regional council was environmental protection of resources and habitat in Hawke's Bay. "But now we are seeing the regional council become more of an economic development agency."