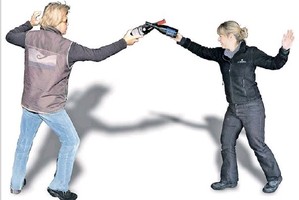 It would be fair to say that Katie Turvey is a chip off the old vineyard block.
She has followed in her father Tim's footsteps to become an award-winning winemaker in her own right, and of course Mr Turvey is justifiably proud of that.
But her winemaking skills are being put to use across the Tasman, at the Kilikanoon Winery in the heart of South Australia, while Mr Turvey continues to put his skills to award-winning use at Clearview Winery at Te Awanga.
So the potential was always going to be there for a spot of family rivalry ... over a few glasses of wine of course.
It was a visit to Kilikanoon Winery this year which sparked what will be a unique transtasman challenge next weekend.
"I was over there for about a week visiting Katie and they were all extolling her virtues - all the awards, the winery of the year and how good their wines were," Mr Turvey said.
That resulted in what he described as some "verbal sparring" as Mr Turvey pointed out Clearview had not exactly been slow out of the blocks when it came to picking up awards of its own.
"She's very competitive," Mr Turvey said. "So when she said she was looking at coming over in September I thought right - you bring your best over and we'll bring our best out."
So right now, cases of six different Kilikanoon wines are on their way across the Tasman for a tasting evening which, when word got out, was quickly sold out.
Sixty-five guests, many from within the wine and hospitality business, will sit down to a five-course meal being specially put together by Clearview head chef Peter Hallgarth at the winery restaurant on September 7, and they will be on a mission.
A Clearview and a Kilikanoon wine will arrive with each course but they will not be identified.
"A blind tasting to see who comes out on top," Mr Turvey said of the intergenerational transtasman contest.
He said he was proud of his daughter's achievements since she joined Kilikanoon Winery in 2008 after working in wineries here as well as Spain, France and the United States. "She's achieved everything herself and done very well," he said.
Clearview joint owner and founder Helma van den Berg said the challenge would be entertaining, and enlightening.
"It's going to be hilarious to see if Tim can still produce the juice up against the new growth vibrancy, vitality and beauty that is Katie," she said. "Has he passed on all of his winemaking talents or has he retained a few secrets that can see him still reign as supreme master?"
Depending on the result, was their likely to be a return match across the ditch? "Now there's an idea," Mr Turvey said.
And his prediction? "Well the Kiwis are winning everything else at the moment aren't they?"