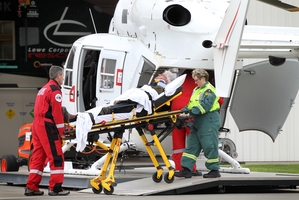 After being hammered to the ground twice by a charging cow Clifton farmer Angus Gordon was aware of more than just the pain of having both shoulders dislocated.
"I remember thinking if she comes at me a third time I'm not going to get out of this. "It'll be all over," Mr Gordon said.
As it was, the fifth-generation farmer of the historic Clifton Station was gored into the ground by the cow, his face buried into the mud.
It was a painful end to what had otherwise been just another day getting things done and it was something the 63-year-old literally never saw coming.
It was just before noon on Thursday. Two calves had got through a fence and Mr Gordon, who was checking the area aboard his 4WD quad bike, got off and shepherded them back into the paddock they should have been in.
He noticed another one still there so turned to go and get it and was battered to the ground from behind.
"She came at me twice," he said of the cow which had charged him in what he said was part of its protective stance toward its calf.
"I never saw it coming."
He was struck on one shoulder which immediately dislocated, with the impact throwing him onto the ground so hard his other shoulder also dislocated. "It was a real blow ... she's about 600kg."
The cow only pulled back when he began to shout and crawl away, then it went back to its calf.
"The pain was just intense and I knew I had to ride the bike to the top of the hill because there's no cellphone reception down where I was."
He said the only thing he could imagine that enabled him to get on the bike was pure adrenalin.
"I don't know how I did it. How I got on that bike. The pain was incredible."
Having managed to get to the ridge top he toppled from the bike.
He could not get his arms to work properly and did not have the strength to hold up his cellphone. So he let it fall to the ground and lay beside it, painfully punching in the numbers to call his wife.
"It was the third time I've had to make a call like that. She's probably getting used to it now," Mr Gordon said.
He had previously suffered a chainsaw injury when the blade struck him in the face, and in 1991 he broke several ribs and suffered a punctured lung after the quad he was riding crashed over a cliff. Mrs Gordon called emergency services and kept talking to her husband.
"I was pretty conscious but I was so sick. I couldn't lift my head," he said. He was full of praise and admiration for the Lowe Corp crew and paramedics.
"They were outstanding. They do such a marvellous job."
Relaxing and recovering back on the farm yesterday, he laughed and said apart from the pain his only regret was losing a new jacket and a favourite jersey.
"They had to cut them off me."
After arriving at Hawke's Bay Hospital Mr Gordon was stabilised before being put under anaesthetic so his shoulders could be pushed back into place.
"It's not too bad now. Bit stiff and sore though."
He said friends and neighbours had been great and were helping him out until he could get back to full strength, which was likely to be some time.
His advice to anyone who was unfortunate enough to find themselves injured and isolated was to use the power of adrenalin.
"It's amazing what it can do. Think quickly and use it while it is still there to get moving to get help."