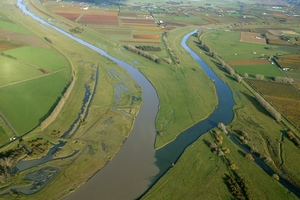 A total of $109,000 will be spent on constructing 9.4km of fence line on river berms as part of a three-year work programme aimed at keeping stock out of waterways.
Hawke's Bay Regional Council reviewed a report outlining the programme and how it could match it up with its proposed Tukituki catchment plan change 6, which required enforced stock exclusion from rivers under certain circumstances.
It would target fencing work at the confluence of the Tutaekuri and Ngaruroro rivers and sections of the right bank of the Ngaruroro this summer.
These sites had low areas where cattle could get access to water and they were public areas close to State Highway 2 bridges.
The cost for this "priority one" phase was $34,000 and involved 2.8km of fencing.
Silt extraction work on the right bank (south side) of the Ngaruroro River would mean the 2.8km of fencing work there could not begin until 2014-15 and it would cost $32,000.
It was a similar story for the left bank (north side) of the Ngaruroro River where silt needed to be removed so the 3.8km fencing work could begin in 2015-16 and it would cost $43,000.
The council's group asset manager Mike Adye said the Karamu Stream also included areas where council-owned land was used for grazing as a way of "managing the land" to keep pest plants and weeds under control.
There were 13 existing licences to graze stock along the Karamu, which would expire on June 30, 2015. At the moment, there were no rules preventing stock access to the stream.
"Staff are working with each landowner along the Karamu, who has a licence to graze cattle, to ensure the stock were prevented from getting into the water," Mr Adye said.
"We are working, as soon as possible, through areas where we can have temporary fencing."
Mr Adye's report says if grazing river berms stopped, the council's weed spraying programme would have to be extended and a detailed analysis had not been completed on the likely cost of the increase.
Some licence holders had fenced off sections of waterways where they grazed stock at their own expense, while in other areas, river banks prevented stock from accessing water ways.
A preliminary assessment suggested if all licensed areas were fenced, 50km of fencing would be required to secure about 120ha of grazing land.
It would cost between $100,000-$250,000.
Councillor Neil Kirton said it was pleasing to hear staff had a plan to deal with stock getting into rivers and streams.
"But if we want to go to some other form of management [of river berms], the ratepayers will have to pay a lot more for it."