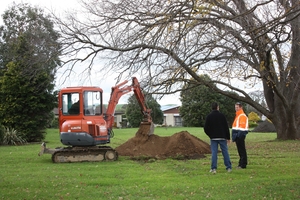 A recommendation to Tararua District Council to abandon plans to build pensioner housing on the George St Reserve is cause for a party, a resident says.
The local authority has been investigating building 12 pensioner flats on a portion of the reserve, angering residents in neighbouring Hamlet, George and Dagmar streets.
Now, Hamlet St resident Derek Rose is delighted a report to councillors, from Kathy Dever-Tod, the council's manager assets group, recommends abandoning the reserve as a site for the development of the elderly housing units because the land is unsuitable.
The new development had been proposed as an option to replace the existing Hovding Court flats.
"This is bloody fantastic," Mr Rose said. "You know we told the council this land wasn't suitable for building on and we knew that it was just commonsense not to go ahead, but you can't tell council, they have to do it their way.
"So many of the residents down there were very upset at the thought of their little piece of paradise being built on.
"This news will cheer them up, it'll be party time."
Last year residents vowed to fight the development, with the reserve at the centre of the daily lives of many in the area.
Hilary Hirst, the head teacher at Central Kindergarten, said the reserve is a great asset for the 40 children who attend the centre.
"It'll be great for the community to be able to retain the reserve and here at the kindergarten we just love going over there," she said.
Ms Dever-Tod's report to councillors states that given the uncertainty of the extent of the contamination and the cost of remediation, combined with the cost and uncertainty over the success of an application for a plan change, it was prudent for the council to abandon the George St reserve. Council staff will revisit options for addressing the unsuitable housing at Hovding Court.
Investigation at the site revealed that not only was the reserve a former gravel pit and a public rubbish tip, it had also been a tar storage facility in the past.
Two of the test sites within the proposed building area showed contamination levels exceeded the guideline for residential development.