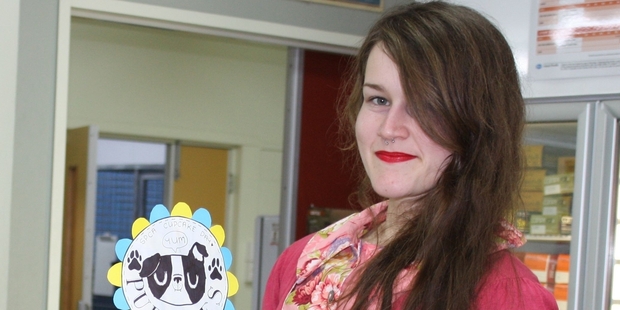 Waipukurau's Jessie MacNeil loves working with animals and, thanks to her hard work, SPCA residents have benefited from some tasty treats.
Jessie is a qualified vet nurse looking for work but, in the meantime, volunteers every Tuesday at Dannevirke's Tararua Veterinary Services.
"Jessie has been volunteering with us for a couple of years now, just to keep her hand in while she looks for a job," vet nurse Buffy Lock said. "She does everything around here and is a great asset."
Jessie said she loved the work, but would like to find a job. In the meantime, she's doing what she can to help the SPCA and spent the weekend baking and icing 300 cupcakes for her stall on Dannevirke's High St.
"Buffy and vet Suzie Weston helped me out by providing ingredients," she said.
On Monday, Jessie dressed in her cutest cupcake outfit, including killer heels, manned her cupcake stall, and did great business.
Helping out was her grandmother, Jean Leask of Taradale.
"We had more than five boxes of cupcakes and have sold most of them," she said. "People have been very generous, with some telling us to keep the change, while others have just made a donation, some $20.
"I've been visiting the shops taking a basket of cupcakes with me and I'm so impressed, Dannevirke has some very nice shops."
But not all the tasty treats were for humans. Jessie hadn't forgotten her animal pals, with tiny puppy cupcakes, with chicken, mince, veges, oats, rice and cat biscuits.
The special animal cupcakes were on sale at the vet clinic and are safe for dogs, without any ingredients such as sugar or chocolate to harm them.
Pupcakes are safe for your dog to eat, but they are special treats and should only be offered in moderation.
The SPCA's cupcake day is a way for the public to show their support for the more than 60,000 animals which pass through SPCA centres nationally every year.